Mr. Rich by Virna DePaul: Julia is barely making ends meet working as the sample girl for a local grocery store. It's certainly not her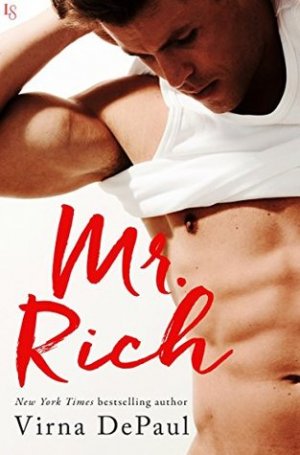 dream job, but she can't even consider pursuing a career in music anymore. The memories of what happened before she eventually quit her college program are just too painful. She's smart and sassy and dreams of the sexy customer who is so out of her league.
Bastian is a successful financial advisor from a wealthy family. He has a bit of a checkered past between his playboy days and the naked pictures that you can still find online. He's sexy, charming, and he won't allow himself to get into a relationship.
Julia is shocked when the customer she's been ogling and dreaming about finally approaches her sample stand. But she's even more shocked when she finds him passed out cold on the floor. It's too bad that her dream man turns out to be a jerk.
"Let me make it up to you?"
She scoffs. "So you ignore me for an entire week, give me some lame excuse, and expect me to just give in and see you again? Have a nice life, Bastian. No, on second thought, go to hell." She hangs up.
I stare at my phone. She hung up on me? She hung up on me!
Bastian isn't used to anyone telling him off, but he finds that he enjoys getting reamed out by the sexy spitfire. Passing out in front of Julia was only the first of a few of his not so great moments when it comes to Julia, but she throws him off his game. They have incredible chemistry and their relationship becomes something much more than either were really prepared for. They challenge and support each other as they begin to open up.
"There's nothing wrong with this bike," I tell him. "And if you have to ask what was wrong with her, you'll never know. Best to hire a good mechanic." I can't deny I sort of feel like a badass for getting his bike running.
"Or maybe I can just have you over more often and we can work on the bike together."
Mr. Rich is a sexy, rollercoaster ride. With passion and conflict, Virna DePaul created an entertaining story with strong characters. Ms. DePaul provided entertaining secondary characters. Fans of Tracy Wolff and Delancey Stewart will enjoy Mr. Rich.
Book Info:

Publication: June 27th 2017   | Loveswept |
She finds a wallet (not a shoe), and he's a billionaire (not a prince), but this time, Cinderella's turning the tables. . . .
Julia: Shilling samples at a grocery store isn't exactly my dream job. Yet here I am, tray in hand and fake smile plastered on my face. The one highlight is seeing him. I don't know his name, but if I did, I'd scream it during the naughty dreams he inspires. He's crazy handsome, all confidence and an air of power. He's never said a word to me. Never even looked in my direction. Then one day he literally falls at my feet. Now I have his wallet. I know where he lives. And I've found the nude photos of him online.
It's not the bruschetta on her tray he really wants to taste. . . .
Bastian: I've dated models, doctors, and CEOs, but something about Julia Rominger has me intrigued . . . and more than a little aroused. Maybe it's her lush curves driving me wild. Or the fact that she has no problem telling me to go to hell. Either way, she's seen me at my worst; I want to hit her with my best. I know where to touch, where to kiss, and just how far to push to drive her crazy. Soon, however, pleasuring Julia isn't enough. I want to possess her. I need to make her mine. And I'll fight to the bitter end to win her heart.