In Much Ado About You by Samantha Young, Evangeline "Evie" Starling has had a pretty craptastic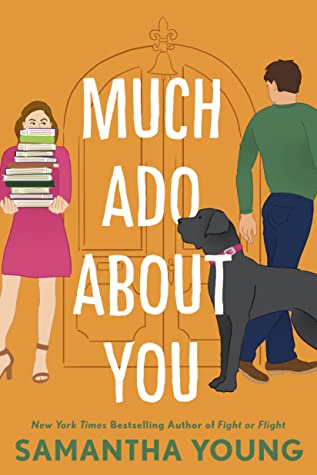 week. There's the online dating fail. Then her best friend since college, Greer, drops a huge, life-changing bombshell. And then there's her career as an assistant editor. Positive that she is up for promotion to editor, Evie is devastated when she's not chosen. And she decides a change of scenery is absolutely in order or she's going to do something she'll regret. One online search later, and she's headed to the Northumberland region in England to live out a closely held dream: to run a bookstore.
'Curse my luck!
I swear off men. I book a trip to England to find myself.
Instead I find a sexy English farmer.'
The store's name, Much Ado About Books, caught Evie's eye first, being that she is a huge fan of Shakespeare. Having a cute apartment directly above, where she can stay and easily check out the quaint seaside village is a bonus. As are the locals, when Evie arrives in town. They take her in like she's one of their own, something she learns that is rather unusual for the close-knit group. Already feeling like she's found her place in the world, things solidify even more when Evie meets local farmer–the sexy as all get out Roane Robson. Talk about an instant connection. She told herself she had sworn off men, but when she thinks about leaving Alnster in the near future, Evie can't imagine not having Roane and her new friends in her life any longer.
'Roane Robson was one of a kind, and I'd be an absolute fool to walk away from the chance to see if what was between us could be something real.
Something epic.'
A gem of a rom-com set in the coziest of seaside towns in England and with wonderfully genuine emotions, Much Ado About You utterly enchanted me. But what else should I have expected from Samantha Young, right?
"You think too well of me," I whispered, worried for us both.
"You're not perfect, Evie, rationally I know that." He let out a long sigh. "But you're perfect for me."
Fun! Oh my goodness but I had a ball reading Much Ado About You. The setting was the first big draw for me, where it was a small village in northern England quite near the border with Scotland. Second, our heroine Evie was not just a book lover but a true lover of the written word, in all forms. And third was the rest of the cast. From her best friend Greer back in the States to the locals Evie met in Alnster, they stole my heart–and made me laugh too many times to count.
There was actually a lot going on for such a tiny town and Evie, bless her heart, was right in the thick of it all. There was another romance that bloomed between secondary cast members as well as a few other characters who took bold steps in their lives. It made for a much richer story overall without overwhelming Evie's own personal journey and subsequent romance with hottie farmer Roane. *fans face*
Roane and Evie's meet-cute was the perfect setup–and all thanks to his mischievous dog Shadow. Samantha Young added little tidbits here and there so I knew there was something about Roane that he wasn't letting on to Evie, but he was such an affable, charmer of a guy that I honestly didn't care. (lol) The flirting between the two of them was sweet and sexy and definitely had me grinning. To me it just felt like Roane and Evie were *right* together. And what an ending! It wasn't an easy road for the couple but they sorted it all out in the swooniest of ways.
Much Ado About You was simply a pleasure to read. And I have a feeling it will be one of my go-to books when I need a pick me up to escape life for a couple of hours. Highly recommended.

Book Info:

Publication: Published February 2nd 2021 | Berkley |
The cozy comforts of an English village bookstore open up a world of new possibilities for Evie Starling in this charming new romantic comedy from New York Times bestselling author Samantha Young.
At thirty-three-years old Evangeline Starling's life in Chicago is missing that special something. And when she's passed over for promotion at work, Evie realizes she needs to make a change. Some time away to regain perspective might be just the thing. In a burst of impulsivity, she plans a holiday in a quaint English village. The holiday package comes with a temporary position at Much Ado About Books, the bookstore located beneath her rental apartment. There's no better dream vacation for the bookish Evie, a life-long Shakespeare lover.
Not only is Evie swept up in running the delightful store as soon as she arrives, she's drawn into the lives, loves and drama of the friendly villagers. Including Roane Robson, the charismatic and sexy farmer who tempts Evie every day with his friendly flirtations. Evie is determined to keep him at bay because a holiday romance can only end in heartbreak, right? But Evie can't deny their connection and longs to trust in her handsome farmer that their whirlwind romance could turn in to the forever kind of love.