In My Beautiful Sin (Fallen Saint #2) by J. Kenner, Philanthropist Devlin Saint has tried to atone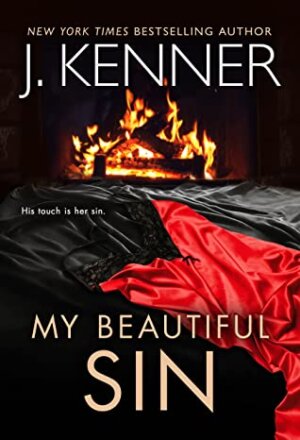 for the horrific past he left behind and the things he had to do in order to survive. The foundation he created helps those in need, particularly women and children. It's the least he can do with the money he's amassed over the years. But the one thing Devlin has always craved is Ellie Holmes. And now, through hard work and perhaps even fate stepping in, she's back in his life again. Hopefully for good this time. As long as she doesn't find out what Devlin is keeping from her, then he can see them having a lifetime of laughs and love ahead of them.
'She was the manifestation of everything he had fought for in his life, everything he was still fighting for, love and goodness and hope and a future. All wrapped up in one woman who belonged to him.'
As a former cop, now an investigative journalist, Ellie is used to tracking down leads and following her instincts. And her gut is telling her that the more she digs into her family's past, she's not going to like what she finds. The same can be said for the love of her life: Devlin. Ellie is aware he's hiding secrets and that he doesn't want to burden her with them–or put her in harm's way. But he doesn't realize just how much trouble is already on their doorstep. Or that Ellie isn't going to back down. Devlin might be trying to protect her, but she's going to get to the bottom of who's out to ruin their lives before it's too late.
"You can never know anyone completely… But I know your heart. I know the core of you. Don't I?"
He meets my eyes and nods. One single tilt of his head. "Yes. You do."
Wow! Thrilling and seductive, My Beautiful Sin had my heart racing and my mind whirling with all of the plot twists J. Kenner threw our way. And that shocking ending! Now that's the way to keep a reader interested.
'He wanted Ellie to know the full man he'd become. A man with secrets and faults and deadly enemies. A man with a code and a purpose that both drove and defined him.'
Let me just say again…WOW. I adore J. Kenner's books for the fact that she incorporates sensual romance with a bit of an erotic edge to it, elements of suspense, and flawed characters I can't help but root for. My Beautiful Sin took all of that to the Nth degree. I think if readers were on the fence about Devlin at the end of book one (My Fallen Saint) then this will solidify just how smart and standup a guy he really is, as more of his past as well as his current endeavors were explained here. Devlin's heart was certainly in the right place. Both with how he tried to protect Ellie and with the others he watched out for. Talk about a caring guy. *dreamy sigh*
It was Ellie who I worried about more in this installment–for her safety as she dug into her uncle's checkered past and for her frame of mind, again due to her uncle's secret life she wasn't previously aware of. My heart went out to Ellie. But she proved over and over how tenacious she was. And I loved that she finally did some soul searching in regard to Devlin and what she really wanted for a future. We got to see the vulnerability under Ellie's bravado. Something that Devlin probably wasn't expecting but cherished as they fought against someone out to tear them apart.
From touching, deeply emotional confessions to a reunion romance and an exciting thread of subterfuge, My Beautiful Sin was one wild ride. And with the way J. Kenner left things at the end, the final book in the trilogy, My Cruel Salvation, promises to be every bit as amazing, too.
Book Info:

Publication: Published January 26th 2021 | Martini & Olive | Fallen Saint #2
Everything Ellie thinks she knows is about to change.
Despite his dangerous past, billionaire Devlin Saint finally has Ellie Holmes in his life—and in his bed. Yet shadows still cling to Saint, obscuring his dark secrets and the confidences he swore never to reveal.
An investigative reporter, Ellie is certain the man she loves hasn't told her everything. And when she starts receiving anonymous warnings about Devlin, she vows to investigate. Soon it becomes clear that Devlin isn't the only one with things to hide, and the more Ellie learns, the more she realizes how dangerous it is to love Devlin Saint.
His touch is her sin…