In Muffin Top (The Hartigans #2) by Avery Flynn, Lucy Kavanagh doesn't care what people think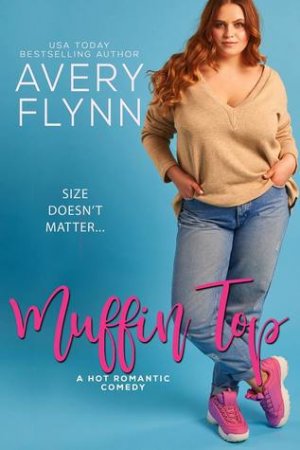 of her, but it's nice that Frankie Hartigan is willing to come to her rescue when some random guy makes a comment about her food habits. Inviting him to eat with her, they get to talking and soon she finds herself ready to attend her high-school reunion with Frankie along for the adventure. However, the more time they spend together; the more Lucy finds herself falling for Frankie. But when they return home, will she be willing to give him a chance at forever or will they go their separate ways?
"I appreciate what you did. Seriously, I am going to hold that memory tight for the next time some a**hole decides that he or she needs to impart unsolicited advice about my body, but you don't have to eat with me. I'm a big girl. Obviously."
I love a good Rom-Com and Ms. Flynn certainly knows how to deliver with this being another enchanting story for this series where the heroine's back story tugged at my heartstrings because people can be so cruel; the dialogue was compelling because the hero knows how to charm a woman and is quite competitive when it comes to helping the heroine deal with her past; and the obstacles these two face to be together are quite challenging, as the heroine believes they're too different to have a lasting relationship. Will she prove to be right?
The way this story started had me immediately hooked, as the hero is unhappy but understands why his boss is giving him the orders he is. Since being in such a stressful and dangerous job requires firefighters to take downtime for their well-being. However, it was from the moment the hero and heroine come face-to-face for the first time where this story gets really interesting, as the hero doesn't do relationships and hearing what he does from a woman that he's had a good time with in the past makes him rethink things. Will he be able to stick to his plan?
"We met because your brother is dating one of my best friends."
"And you couldn't keep your eyes off me and decided to make it your mission in life to have your wicked way with me."
She shook her head and put her sunglasses back on, pivoting in her seat so she was looking the front windshield. "No way. You pursued me. I turned you down four times before I finally agreed to go out with you – just for coffee."
A coffee date? Really? Women loved him, they didn't make him go the is-he-a-serial-killer route with an afternoon date. "I'm not sure my ego is going to survive this trip."
As for the main characters, I absolutely loved Frankie. He's confident, charming, competitive, fun and I loved how determined he was to win Lucy over. Really, him being with her and helping her handle being around the people she went to high school with isn't out of pity. It's palpable that he loves spending time with her. While the heroine, she's resilient and courageous when it comes to everything she's been through in her past and it's understandable why she's become a woman that doesn't care what people think of her. Why shouldn't be proud of the woman she's become when she has an awesome job she loves and friends and family that think the world of her? I also liked how the heroine handles everything that happens when she's back in her hometown, as old wounds resurface and finally given the chance to heal.
Overall, Ms. Flynn has delivered a well-written and wonderful read in this book filled with plenty of emotion that made me smile, laugh and cry; and where the chemistry between Lucy and Frankie was powerful; the romance was extremely passionate, as Frankie shows Lucy how special she is; the secondary characters are just as entertaining as the main ones, especially when the hero needs advice when it comes to his future with Lucy; and the ending had me loving the hero's determination to make things right with the heroine once he realizes how much he screwed up. However, it was the epilogue that wrapped this story up perfectly, as Frankie and Lucy make such a wonderful couple and have so much to look forward to when it comes to their future together. I would recommend Muffin Top by Avery Flynn, if you enjoy the ugly duckling trope, the opposites attract trope or books by authors Stefanie London, Donna Michaels, Tawna Fenske and Marissa Clarke.
Book Info:

Publication: October 29th, 2018 | Entangled Publishing | The Hartigans #2
The only thing about me that's a size zero is the filter on my mouth. I've got a big personality, a big rack, and a big number on the scale. And I'm perfectly fine with that.
But when some random guy suggests I might not be eating alone if I'd ordered a salad instead of a hamburger I'm shocked silent, which is a feat, trust me.
That brings us to one sexy fireman named Frankie Hartigan. He's hot. He's funny… And he's just apologized for being late for our "date" then glared at the fat-shaming jerk. Next thing I know, he's sitting down and ordering himself dinner.
I have no problem telling him I don't need a pity date… unless of course it's to my high school reunion next week. Oops where did that last bit come from? And what do I do now that he's said yes?!
Because this is no make-over story, and I think Frankie is using me for something. I just have to figure out what…