My Almost Ex by Piper Rayne: When Adam Greene had his heart ripped out and stomped on by his very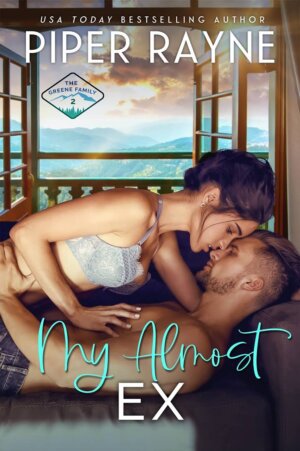 own wife the day she just upped and left him, he never expected to see her again let alone have her roll back into town as if nothing ever happened, but this is exactly where Adam finds himself. After having no word or sign from Lucy suddenly Adam finds himself face to face with his soon to be ex wife, only problem she doesn't remember anything including walking out on him. Desperately wanting to know the reason that Lucy crushed his heart Adam does the unthinkable and agrees to help Lucy try and get her memory back in the hopes she can finally tell him what went wrong in their marriage. The last thing Adam expected was to land up falling in love with his wife all over again.
"I've always been here for you and that's not going to change now. Then again, depending on what we find out at the end of this, maybe it will."
After a freak horse riding incident goes wrong Lucy finds herself trying to fill in the blanks of her life, and the biggest one being why would she ever walk out on her perfect husband. Torn between wanting to get her memories back and wanting to continue to keep Adam in her life, Lucy finds herself moving back to the small Alaskan town in the hopes her memories will come flooding back. However when nothing seems to be working Lucy decides to change things up and rediscover herself and in doing so hopefully rebuild her marriage. With each passing day Lucy starts to fall more and more in love with Adam but the question is will he be willing to give her another chance especially when the big reason comes to light?
"You've always been mine, Lucy Greene. I've fought for you my entire life and I'm not giving up on us yet."
Pure perfection all wrapped up nicely in a swoony happy ending. My Almost Ex was absolutely perfect, it has been a hot minute since I have read a book that had me hooked the way Rayne did in the second instalment of The Greene Family series. It was an absolute treat getting to read this true love story. I loved that we got to see their love story in bit and pieces from the first moment they meet to all the goodies in between.
"The thought of putting my heart out there again is just as excruciating as letting you slip out of my grasp again."
Adam was the perfect hero, even though he had his heart broken by the woman he loves he could not help but want to help her and stop the pain she was in. I loved watching him try to fight his feelings for Lucy, only to fall even more in love with his wife. As for our girl Lucy, gosh I can not imagine how upsetting it must have been to have lost all her memories. Though I must say I loved that she finally realized that it's not about who she was but who she is now and that she is perfect just the way she is now.
Family was a major theme in this novel, with Adams family being so close knit and inclusive, whereas Lucy's parents really didn't do much to help her regain her memories. I will be honest I was not a fan of her mother, talk about a mean grudge holder. Though it was Ethel and Dori that stole the show for me, these two golden oldies were just a hoot! I loved every bit of their snooping and crazy driving.
If ever there was a perfectly suited couple it would be Adam and Lucy Greene. My Almost Ex was the perfect romance novel to snuggle in with a warm cup of tea and watch this couple fall in love all over again. This is a definite must read!

Book Info:

Publication: April 6th 2021 | Piper Rayne | The Greene Family #2
In the middle of a crowded bar in our small Alaskan town, my estranged wife snuggles up to me as if we're still a happy couple.
Don't get me wrong, we were a happy couple—before she walked out on me a year ago. We were the high school sweethearts everyone thought were destined to be together forever. We thought so too, which is why we married shortly after graduation.
We had a good marriage. Until she left me without any real explanation.
Now, she's back—and this is the real kicker—she has amnesia and thinks I'm still her husband. Technically I am, although the divorce papers are sitting at the lawyer's office.
She's desperate to remember her life in Sunrise Bay but I only want to find out why she left me. Once we conjure that memory up, it's sayonara because there's no second chances here. But as you probably already figured out, things didn't go quite as I planned.