My Bought Virgin Wife by Caitlin Crews is a sexy marriage of convenience romance for a French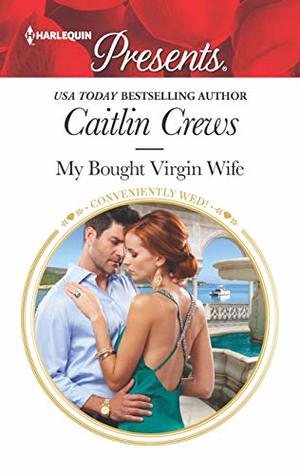 aristocratic daughter, and a Spanish businessman looking for a society status upgrade – and finding love in the bargain.
Imogen Fitzalan is a French heiress who hasn't had a very happy life. Her mother died when she was young, and she's trapped with a cruel father who constantly denigrates her over her flamboyant red hair and impulsive manner, comparing her to her perfectly put together blonde half sister Celeste. Ten years earlier, Celeste had turned down the marriage suit of Javier Dos Santos. Javier is back, with the money and power to marry a Fitzalan daughter whom he desires for their blue blood to counter his own poor upbringing. It will bring him into the upper echelons of society and make others take note. But Celeste married another in the interim so Imogen is the one who will be bargained off.
Everyone says that Javier is a monster, but when he is a guest at their home prior to the wedding, she gets caught spying on him and in turn, he gives her a taste of what their marriage bed will be like. She'd thought she'd be leaving one prison for another, but in fact, it's nothing of the kind. Once married, Javier whisks her off to his island paradise and for some idyllic days they exist only for themselves. But emotion isn't supposed to be part of the arrangement and when Imogen finds herself falling in love with her husband, will it push him away or will he admit that she's captured his heart too?
At first I couldn't put my finger on why this seemed different than other Harlequin Presents that I've read recently and then it dawned on me that it's written in first person dual point of view ('I did this') unlike most HPs which are written in third person ('She did this'). In this way it draws you right into the heart of what the characters are thinking and experiencing, and from the start Imogen captured my attention and empathy. She can't help that she's been born with red curly hair, but to her father it's as if that was designed specifically to spite him, so he's deliberately cruel to her and her sister is equally mean, though in a less obvious way. Marrying Javier can't be any worse than where she's living now, and so she resigns herself to the marriage, but then finds herself attracted to him even though she knows he's only marrying her because she's the one available.
Javier of course isn't the monster everyone says he is. While he may be arrogant and ruthless, he also has a considerate side. His reputation is fierce because his father is a criminal and he worked for him as a child. He eventually was able to pull himself out of the quagmire, make his fortune and now he supports his mother and siblings. He's rich but different than those of the French and Spanish nobility who were born with wealth. It makes him lesser in their eyes, and he figures that marrying into one of their families is his key to their circles. Originally he wanted a wife as arm candy and to provide him with heirs, but after he meets Imogen he realizes that he doesn't want a carbon copy of the society wives out there, but rather her, exactly as she is.
Once married, Imogen and Javier get to explore the initial attraction between them and there are several sexy love scenes. But their honeymoon can't last forever. Navigating back into society and facing her family again makes them both realize that their expectations of marriage have changed, but it still takes some time, especially for Javier to get to their true happy ending. I enjoyed everything about this story with its fairy-tale like quality and passionate romance. It's going on my keeper shelf!
Book Info:

Publication: Dec 18, 2018 | Harlequin Presents | Conveniently Wed
She's mine…
But will her innocence break all my rules?
I've never wanted anything like I want heiress Imogen Fitzalan. I married her to secure my empire—but my untouched wife has ignited an undeniable hunger in me. Desire beyond reason wasn't my plan, yet now I have a new aim: to strip away her obedience, and replace it with a fierce passion to match my own…