The Secret to Dating Your Best Friend's Sister by Meghan Quinn: Julia is brilliant, methodical,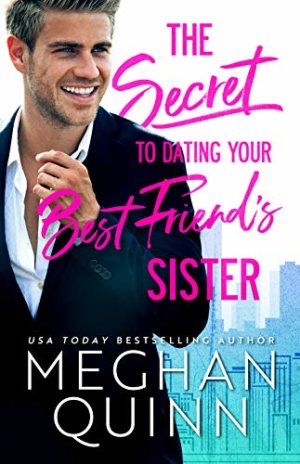 introverted, and very close to her brother. She's running a small but expanding and very successful matchmaking company. She very much enjoys finding the right match for her clients and prides herself on her near perfect success rate. She's also quite stubborn, hates small talk, and examines a course of action from every angle.
Bram is sexy, charming, handsome, and competitive. He hates to lose and he's usually right, which he will make sure you know. He's still very close to his two best friends from college, especially with Rath. Bram and Rath are almost like brothers, which is a little uncomfortable when Bram has been pining over Rath's younger sister for the last decade.
Bram was crushed when Julia wasn't interested in dating him in college, but he's waited and bided his time. He now has plans for how to pursue and woo the lady of his dreams. Losing a bet to his best friends and becoming one of Julia's clients is just the beginning.
"Get ready, Jules, after all is said and done, you're going to like me a lot more than you're expecting to."
Ha.
"Yeah, we'll see about that Romeo."
Julia isn't one to suffer fools or pranks and she definitely challenges Bram on every level. He loves her intelligence, drive, and willingness to make him work for her. They banter and Julia gets a much better understanding of who Bram is now rather than the Bram she met in college. The chemistry sizzles between them as Bram gets under her skin.
"Just confess I was right."
"I don't know how my brother puts up with you. You're really annoying."
"Because I'm right?"
"Yes, because you're always right and you know it."
The Secret to Dating Your Best Friend's Sister engaging, entertaining, fun, and sexy. Meghan Quinn provided a mix of the past and present with humor, heart, bromance, and surprises. Ms. Quinn created a great group of characters and I'm hoping that Bram's friends will have their own books. Fans of Penelope Ward and Vi Keeland will enjoy The Secret to Dating Your Best Friend's Sister.
Book Info:

Publication: Published January 3rd 2019 | Independently Published |
How do you date your best friend's sister? Easy.
Step one: Pretend you want her to set you up with someone else. That will bring the two of you closer.
Step two: Go on date with lots of random women, proceed to get stupid drunk and talk about your best friend's sister, thus gaining the courage to finally make a move.
Step three: Randomly show up at her apartment and confess your love. Women love that, right?
It all seemed so simple. A fool-proof three step process that will guarantee the love of you life to fall madly in love with you.
At least–that's what I thought was going to happen. But my attempts to win over Julia Westin backfired in more ways than I can count. The thing about Julia? She's smart–really smart–and her wicked gaze cuts through all the charm I've tried slinging her way. She's not interested in games, my gifts, or my stories. She might want me too; but she's not giving in that easy…