My Fake Rakeis the first book in the new series Union of the Rakes by Eva Leigh. I haven't read a lot of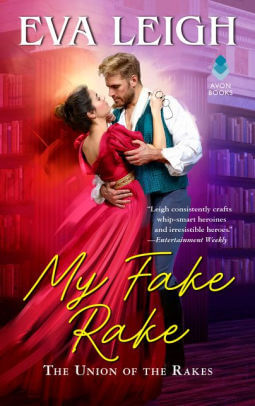 books by this author, but this book has made me a fan! The story line of catching a man by making him jealous is not original but the fact that the hero and heroine were scientist made it work. Neither of them was actively part of Society and it was hilarious the way they tried to use scientific methods to learn what a rake was. I really enjoy books where one of the characters are an absent-minded scientist, they always seem to have a lot of humor. This book was double hilarious! I laughed out loud the entire book and it was a book that I had to finish in one setting! I could not put it down.
Lady Grace Wyatt was a wallflower more interested in scientific pursuits than finding a husband. She did admire Mason Fredericks, a naturalist who had just returned from an expedition. During her debut, Mason was kind and listened to her when the rest of society laughed at her interests in amphibians. Even though she was infatuated with Mason, he only saw her as a colleague and not as a potential spouse. Her parents urged her to find a husband so they could be assured of her future.
Sebastian Holloway was extremely shy and struggled to talk when addressed directly. While at Eton, he formed an unusual friendship with four boys who called themselves the Union of the Rakes. Their friendship had helped him through school. Seb and Grace had meet in the library and became friends years ago. Even though their area of study was different, they both loved learning. Seb was frustrated with Grace's obsession with Mason, but he knew he didn't have the funds to support a wife and she never saw him as a potential husband anyway.
Grace manages to convince Seb to help her win Mason's attention by making him jealous. She points out the research he could do while attending society events. As they are researching and trying to figure out the ways of a rake, their emotions for each other become complicated. Grace's fear of reject and uncertainty keep her silent about her true feelings and dread of stealing Grace's dreams kept Seb from admitting his feelings. Will they be brave enough to admit their feelings to each other before it is too late?
I really enjoyed reading this book and fell in love with all the characters. I laughed at Seb and Grace's observations of how ladies and gentlemen of society interacted. They were so witty and straightforward, which kept true to the scientific characteristics of the characters. All the members of the Union of the Rakes appear in the book, but the Duke of Rotherby's presence was the largest since he was helping Seb and Grace. I can't wait to read his story and I do hope that he finds someone who will appreciate him for himself and not his title.
Book Info:

Publication: November 26th 2019 | Avon | Union of the Rake
In the first book in Eva Leigh's new Union of the Rakes series, a bluestocking hires a faux suitor to help her land an ideal husband only to be blindsided by real desire…
Lady Grace Wyatt is content as a wallflower, focusing on scientific pursuits rather than the complications of society matches. But when a handsome, celebrated naturalist returns from abroad, Grace wishes, for once, to be noticed. Her solution: to "build" the perfect man, who will court her publicly and help her catch his eye. Grace's colleague, anthropologist Sebastian Holloway, is just the blank slate she requires.
In exchange for funding his passage on an expedition leaving London in a few months, Sebastian allows Grace to transform him from a bespectacled, bookish academic into a dashing—albeit fake—rake. Between secret lessons on how to be a rogue and exaggerated public flirtations, Grace's feelings for Sebastian grow from friendship into undeniable, inconvenient, real attraction. If only she hadn't hired him to help her marry someone else…
Sebastian is in love with brilliant, beautiful Grace, but their bargain is complete, and she desires another. Yet when he's faced with losing her forever, Sebastian will do whatever it takes to tell her the truth, even if it means risking his own future—and his heart