Win Big by Kelly Jamieson finds Everly Wynn, the head of the Condors Foundation, waking up in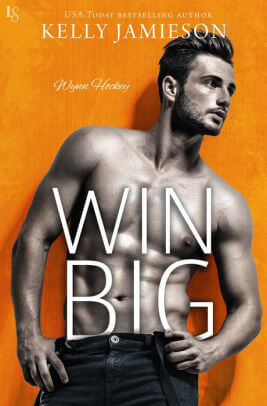 Condors player Wyatt Bell's apartment. The pair enjoys pushing each other's buttons; Everly believes Wyatt is a carefree playboy, while he thinks she's a bit uptight with a possible drinking problem. When Wyatt gets caught in an awkward position, the pair have to "fake date". As they spend time getting to know one another, they learn that each other aren't what they seem. When their past secrets come to light, will they be able to help each other move past their past hurts?
Everly and Wyatt initially seems like opposites. Everly feels like she has to be a perfectionist, while Wyatt comes across as carefree and easy to crack jokes. The truth is that Wyatt has his own past hurts and he uses his humor to cover them. Both feel like they have to pay for things that weren't entirely their faults. They bring out the best in one another and their journey to healing and self-forgiveness was great to read.
This is the third book in the series. While it can be read as a standalone, there are references to an on-going family feud between Everly's father and her two half-brothers, which started in the previous books. It might also be helpful to understand the Wynn family a bit more. The author does, however, provide a list of characters at the beginning of the book, which breaks down how everyone is related to one another, and she also explains how Everly and her brothers are closer in age to her niece and nephews then to her half-brothers. This will help those readers who haven't read the previous stories.
More details are revealed about what actually happened between Everly's father and her half-brothers, but the issue isn't resolved in this book. I assume it's once again going to be carried over to the next book, and I'm looking forward to seeing if everyone can finally make peace.
Filled with humor, romance, heartbreak, healing, and characters will want to root for, Win Big is a great addition to the series.
Book Info:

Publication: November 19, 2019 | Loveswept | Wynn Hockey #3
Everly Wynn: As the only daughter in the Wynn family of hockey heroes, I never shared the ice with my brothers—or the approval they got from my father.
And that was before the scandal that ruined my life at sixteen.
Now that I've put all that behind me and built a successful career, the last thing I need is another hockey player in my life.
Especially one like Wyatt Bell.
He's an arrogant, fast-living party boy. I hate how he gets by on his good looks and charm.
So why can't I get him out of my mind?
Wyatt Bell: Life is short, and you've got to live it to the fullest. I learned that the hard way.
So on the ice, I always play to win, and on the town, fun and flirting are my game.
Because it's better to laugh your way through the pain than to let them see you're hurting—but I'll never stop wishing I could find someone to share the real me with.
Something about Everly Wynn makes me think she could be the one.
But all she sees is a hockey jock hooked on good times.
If she didn't take herself so seriously, maybe she would take a chance on being happy.