In My Life in Shambles by Karina Halle , A brand new start to the new year is exactly what Valerie Stephens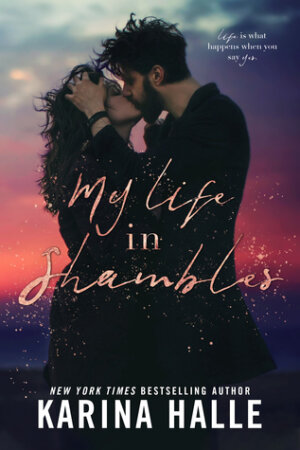 needs. Having her boyfriend break up with her right before Christmas was bad enough. But it also meant she wouldn't have a place to stay any longer. Then she lost her job a few days later. Unable to take one more piece of bad news, Valerie gets talked into joining her sisters on a trip to Ireland so she can relax and regroup. And with her thoughts on turning her bad luck around, she decides to agree to whatever adventures Ireland holds for her. A one-night stand with a sinfully gorgeous rugby player was nowhere on her radar. But Valerie has the night of her life with Padraig (pronounced Pawd-rig) McCarthy. And that was only the beginning of their wild journey together.
'This isn't like me, I'm not the wanton sex goddess who gives herself so freely, who wants and desires and craves like nothing else. But tonight I am.
Tonight I belong to this stranger.'
Padraig was not really in the right frame of mind to have a night out at the pub in Dublin after learning some devastating news about his dad's health–and about his own health, which will affect his career. But he can't take his eyes of the stunning American who is more real than anyone he's met in a long time. After they have a gloriously sexy night together, Padraig isn't ready to let Valerie go. In one of his more selfish moments, he asks her to go back to his small hometown of Shambles as his (fake) fiancee so his dad will find some peace of mind about his only son before time runs out. Somehow, what started out with good intentions turns into something very real and all-consuming. And Padraig isn't sure how he'll cope without his Valerie once she must head home to America.
"I think I already loved you the moment I first saw ye, even if it took me a bit to catch on."
He pauses. "But that love…well, that love became infinite when you saw the darkest parts of me, like that sky above Shambles at night."
My Life in Shambles was a wild ride that took us from America to Ireland. Emotionally driven, hopelessly romantic and downright dirty at times, Karina Halle spun a story that grabbed me and would *not* let go.
"Mo chuisle mo chroi," he says in a thick, throaty voice.
"What?"
…"It's Gaelic. It means, my pulse of my heart."
…I'm just stunned by how romantic that sounds.
Somehow I always forget just how intense Karina Halle's books are when I excitedly pick up a new release of hers. Not intense in a bad way, but in an almost overwhelmingly emotional way. She is an author who truly knows how to play with a reader's feelings thanks to her wonderfully realistic characters and the way she throws everything at them that life has to offer. I must say that My Life in Shambles wowed me with how seamlessly Halle could go from dark and heavy subjects to a lighthearted moment or even a super steamy love scene–and it totally worked. What also worked well was the perfect pacing, and the dual POVs, which made this extremely interesting to follow along and figure out details Halle was holding back for a while about our hero and heroine.
Aside from the beauty of Ireland taking my breath away, the big draw in this book for me was Valerie and Padraig themselves. I really did love them both, right from the start. They had taken some hard knocks over the years–and when you learn about what each of them had to overcome…it will break your heart a bit but inspire you as well.
Valerie surprised me with her strength in the face of adversity and with how deeply she felt everything. She was a terrific influence on Padraig, not that he was a bad guy. But he was dealing with some difficult news about his dad and his own health and career. It was kind of tough to get through some of the scenes where Padraig was trying to cope with it all and I might have shed a tear or two. (Or ten…) But the joy between he and Valerie over finding love was what boosted this story and took it to a whole new level. The strength of their bond was, well, everything. To them, to their families, and to me as a reader.
Breathtakingly raw and utterly passionate, I cannot say enough good things about My Life in Shambles. It is a love story you simply have to experience to get the full depth of the chances the characters took and their eventual triumphs. Highly recommended.
Book Info:

Publication: Published April 10th 2019 | Pub: Karina Halle |
When Valerie Stephens made the resolution to say yes to new adventures, she never thought she'd end up in the tiny town of Shambles, fake engaged to one of Ireland's top rugby players. But there's a first time for everything.
They say bad things happen in threes.
After my boyfriend broke off our engagement, I lost my apartment, and was laid off from my job, I can definitely attest to that.
They also say life is what happens when you say yes to new adventures.
So when my two sisters invited me to ring in the new year in Ireland, I decided to throw all caution to the wind and go for it. I was going to let "saying yes" be my new resolution.
Little did I know I'd spend New Year's Eve having a hot and dirty one-night stand with Padraig McCarthy, one hell of a sexy Irishman. I also didn't know that the brooding and intense sex god was one of Ireland's top rugby players.
A rugby player with a proposition for me:
Come with him to his tiny hometown of Shambles and pretend to be his fiancé for a few days, just so that his ailing father can have some peace of mind.
It sounded simple enough.
It was anything but.
Not when a town gets up in your business, not when the media hunts you down, not when your past comes back in the picture, not when there are real hearts and feelings at stake.
Not when there are secrets that could break you.
They say life is what happens when you say yes to new adventures.
This is my life in Shambles.
This is a full-length contemporary standalone romance. Book is set to release in April and set release date might change