The Summer House by Jenny Hale was previously published in 2017 but is being re-released by a different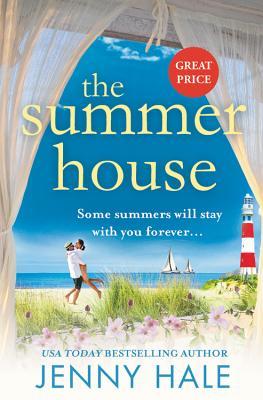 publisher. Callie Weaver and her best friend Olivia have bought a beach house to turn into a bed and breakfast. She doesn't expect to catch the attention of Luke Sullivan, heir to his father's company. A chance meeting leads to a romance. But when a mysterious journal and a locked box is found in the house, will it's contents change everything?
I liked Callie and Luke. Both are down-to-earth characters. Luke doesn't come across as a spoiled rich man; instead, he's a hard worker, trying to get his father's approval. He's genuinely a nice guy who does what he can to help out Callie and Olivia with the renovations. Callie, who wasn't searching for a relationship, can't help but fall for him.
I enjoyed the mystery of the journal and the box, however, it was a little inconsistent. Callie would read a chapter, decide she should respect the previous owner's privacy and put it aside, then a little while later she would pick it up and read more. It was random when she would pick it up and start reading again.
I'll admit it wasn't hard to figure out who the journal entries were referring to, and I would have enjoyed that aspect of the story more if it was a little more difficult to figure out. Still, I enjoyed watching Callie piece it all together and try to figure out how to break the news to the people involved.
There's a budding second chance romance between Olivia and Aiden, who is Luke's cousin and the contractor working on the bed and breakfast. I would be interested in reading more about those two.
The Summer House is a charming tale of finding love when you least expect it and the importance of family and friends in one's life. It's heart-warming, at times heart-breaking, with characters readers will love. It's a perfect summer read.

Book Info:

Publication: May 7, 2019 | Forever |
Callie Weaver and her best friend, Olivia Dixon, have finally done it: put their life savings into the beach house they admired through childhood summers, on the dazzling white sand of North Carolina's Outer Banks. They're going to buff the salt from its windows, paint its sun-bleached sidings, and open it as a bed-and-breakfast.
Callie's too busy to think about her love life, but when she catches the attention of local heartthrob Luke Sullivan, his blue eyes and easy smile make it hard to say no. He's heir to his father's real estate empire, and the papers say he's just another playboy. But as they laugh in the ocean waves, Callie realizes there's more to this man than money and good looks.
Just when true happiness seems within reach, Callie and Olivia find a diary full of secrets . . . secrets that stretch across the island and have the power to turn lives upside down. As Callie reads, she unravels a mystery that makes her heart drop through the floor.
Will Callie and Luke be pulled apart by the storm the diary unleashes, or can true love save them?