In My Oxford Year by Julia Whelan, Attending Oxford has been a dream of American Ella Durran's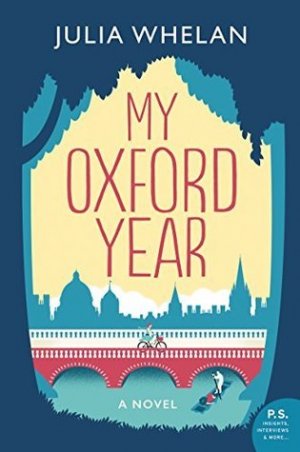 since she was in her early teens, and at age twenty-four she finally steps foot onto its campus. Many years of hard work, research–and one Rhodes Scholarship–has paved the way to study English Literature in the hallowed halls of some of her favorite writers. But Ella's dream-like awe is cut short on her first day when an obnoxious local ruins her trip exploring the quaint shops in the neighborhood. And unfortunately the posh man of course ends up being one of her teachers. Hoping it doesn't mean there will be animosity between them all term, Ella sets out to prove to Jamie Davenport that she can hold her own in his class and that she deserves her spot at Oxford.
"So, what's your, like, title?"
"Posh Prat." I laugh, and he smiles. "Technically, Doctor."
I raise one brow. "Dr. Davenport?"
"Sexy, innit?" he mocks, eyes twinkling.
With a bit of perseverance and some humility, Ella and Jamie basically start over in their acquaintance. It turns out to be a good thing as they have much in common. Along with a very strong attraction to each other. Knowing that she'll be leaving in a year, Ella decides to live life the fullest and take advantage of her chemistry with Jamie. While they spend some steamy quality time together and hang out with her newfound bunch of friends, she's unaware that he's dealing with a life-changing situation on his own. When Ella finally learns the truth of what Jamie faces, she also has a huge decision to make. Should she accept the exciting job in America she was offered and leave Oxford as planned, or stick around in England and give in to the love that seems to be growing daily between herself and Jamie?
'We assess each other, these people we thought we knew… The problem is, now I want to go to him, hug him, hold him. But I stay where I am. I don't know who we are to each other anymore.'
An impressive debut by Julia Whelan, My Oxford Year had all the things this reader adores in a novel–drama, laughs, heartfelt moments, romance, and nerd-speak.
'I try to take stock of everything that has led me here, to this city, to this man. To this. My Once-in-a-Lifetime Experience.'
My Oxford Year truly gave me all the feels and simply knocked my socks off. It had a quirky cast of characters that were endearing who brought out the best, and at times, the worst in each other, just as you would expect from a group of mostly twenty-somethings. Julia Whelan's writing style also worked really well for me. There was an easy flow to it but yet it was still very smartly written, filled with not only snippets of poetry at the beginning of each chapter that fit perfectly, but there was also a wonderful honesty and rawness in the way she described Ella's emotions. And believe me, Ella's year at Oxford was filled with the highest of highs and the lowest of lows. But she was one tough young woman who proved she was up to the challenge.
I can't discuss specifics as to the toughest issues Ella dealt with or I'll give away the last half of the book. Her personal growth from us first meeting her, to the end of this novel was tremendous and I loved seeing Oxford, and England in general, through her American eyes. Her affinity for literature admittedly helped me connect with her right away. But I thought Ella was just such a smart, independent, interesting person overall who had a lot of spunk. She may have had a moment there around the middle of the book that left me speechless for a short while, but she quickly saw the err of her ways and did the right thing. I loved the scenes with her fellow Oxonians and their antics when they went to the pubs or just explored the campus. Whelan detailed the grounds so vividly that it felt like I was right there with Ella, Jamie, Maggie, Tom, and Charlie on their adventures.
Jamie was quite the complicated hero. I wasn't sure if I was going to like him at first but when all the pieces fit together and I realized what earth-shattering issues he was dealing with in his personal life, then I fell head over heels for him. (As I was already starting to do, bit by bit anyway.) I did think Jamie and Ella made an enchanting couple. They were both exceedingly intelligent, and basically looking for a more physical relationship–but were surprised by their genuine connection and growing feelings for each other. Theirs was a very complex involvement, not only because he was technically her teacher, but because of what Jamie faced in his personal life and with Ella's impending expiration date on her time at Oxford.
Bittersweet. Charming. Tragic. Inspiring. My Oxford Year was one memorable journey that I think will touch readers' hearts. It's no wonder why it's already being made into a major motion picture. I know it will be a movie that will easily captivate its audience, just as the book will.
Book Info:

Published April 24th 2018 | William Morrow Paperbacks |
Major Motion Picture Already in Development with Temple Hill Entertainment
Set amidst the breathtaking beauty of Oxford, this sparkling debut novel tells the unforgettable story about a determined young woman eager to make her mark in the world and the handsome man who introduces her to an incredible love that will irrevocably alter her future—perfect for fans of JoJo Moyes and Nicholas Sparks.
American Ella Durran has had the same plan for her life since she was thirteen: Study at Oxford. At 24, she's finally made it to England on a Rhodes Scholarship when she's offered an unbelievable position in a rising political star's presidential campaign. With the promise that she'll work remotely and return to DC at the end of her Oxford year, she's free to enjoy her Once in a Lifetime Experience. That is, until a smart-mouthed local who is too quick with his tongue and his car ruins her shirt and her first day.
When Ella discovers that her English literature course will be taught by none other than that same local, Jamie Davenport, she thinks for the first time that Oxford might not be all she's envisioned. But a late-night drink reveals a connection she wasn't anticipating finding and what begins as a casual fling soon develops into something much more when Ella learns Jamie has a life-changing secret.
Immediately, Ella is faced with a seemingly impossible decision: turn her back on the man she's falling in love with to follow her political dreams or be there for him during a trial neither are truly prepared for. As the end of her year in Oxford rapidly approaches, Ella must decide if the dreams she's always wanted are the same ones she's now yearning for.