In Ball Buster (The Playbook #1) by Kara Sheridan, heading home to Alabama isn't easy for Sadie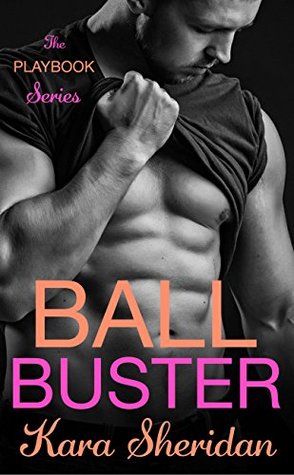 Reynolds. Most of all because her high school sweetheart Carson Savage still lives there and the team he plays for has just become her latest client when a leaked photo labels The Warriors the team with the worst reputation. Determined to help turn the team's reputation around, Sadie knows she can't afford any distractions. However, Carson has other ideas. Will Carson be able to win Sadie back or will she walk away from their second chance at happy ever after?
"I bet there's a lot more we agree on, Kitty Kat. Maybe if you quit fighting it, stop being so defensive…we might have a chance of finding out." He stared at the big bed.
"No," she said flatly. "That's not going to happen."
"What?"
"You. Me. Us."
He was close enough for her to feel his warm breath on her face. "Thinking we'll have sex is a bit presumptuous, sweetheart. But if you insist."
She stiff-armed him in the chest. "That wasn't an invitation."
This was such an entertaining read and I really liked how it started because the hero is in big trouble. Will he find the person responsible for the leaked photo? Will he be able to find a way to turn the team's reputation around? However, it was from the moment the hero and heroine come face-to-face for the first time where things really get interesting for this story, as the heroine does her best to keep her distance from the hero, but there's no way he's going to make things easy when all he wants is to win her back.
"Simple truth. Congress has a better approval rating that the Alabama Warriors. Why, you ask?" The next slide nearly made Carson fall out of his chair – his exposed flesh filled the screen. Laughter exploded. Sadie cleared her throat. "Clothing isn't optional, gentlemen. It's mandatory. And if you think this is acceptable behavior, let me remind you of something. Many states would deem this an arrestable offense if you didn't have permission to take this picture."
As for the dialogue, it was intense due to the main characters back stories, especially that of the heroine. Being Carson's girl isn't easy and I could understand why she made the decision she did in the past and the decisions she makes in the present. Why can't people just accept her relationship with Carson instead of making things difficult for her and making her feel like she's not good enough? Moreover, the heroine is resilient, courageous, hard-working and I liked how determined she was to resist the hero, even though it seems impossible since Carson is so determined to win her back. I also liked how the heroine wasn't afraid to say whatever was on her mind when it came to making the players on Carson's team understand that they're not just damaging the team's reputation but their own. While the hero, he's confident, cocky, a good teammate and I liked how determined he was to win the heroine over because he misses her in his life. I also liked how far he was willing to go to make certain no one hurt her like they did in the past. Yet, what I liked most of all about the hero was the friendships he shared with a few teammates, which is proven by what they do for him and how they support the hero's relationship with the heroine.
Overall, Ms. Sheridan has delivered a really good read in this book where the chemistry and romance between this couple was delightful and had me loving the hero's determination to win the heroine back; and the ending had me sympathizing with the heroine because of what happens, but had me liking what the hero does to show the heroine that their future is more important to him than anything. However, it was the epilogue that wrapped this story up nicely because of the great things Carson and Sadie are doing for those that need a safe haven. Then again, they also have the future to look forward to because of the heroine's surprise. I would recommend Ball Buster by Kara Sheridan, if you enjoy sports romance, the second chance romance trope or books by authors Kelly Jamieson, Naima Simone, Amy Andrews and LJ Shen.

Book Info:

Publication: May 15th, 2018 | Forever | The Playbook #1
Playbook Rule #1: Never ever give up
It's official. The Alabama Warriors have the worst reputation in pro football. As the team's captain, Carson Savage has his ass on the line and – thanks to a leaked photo – his ass is also online. Now the team is getting an image makeover from Sadie Reynolds, the hottest redhead in the South and Carson's high school sweetheart. Maybe making a play for his sexy ex is a risky move… but Carson didn't make it this far by playing it safe.
Alabama is the last place in the world Sadie wants to be. Going home again only reminds her of what – and who – she gave up. Seeing the insanely hot ex she never quite forgot is dangerous. Carson's too sexy. Too tempting. And Sadie can't afford to go out of bounds. So she'll do whatever it takes to finish this job and leave town with her heart still intact. The only problem? Carson's decided it's not about winning the game… it's about winning the girl.