Princess's Pregnancy Secret by Natalie Anderson is a sensual and entertaining contemporary royal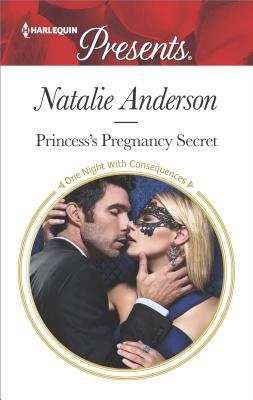 romance. Princess Eleni Nicolaides of Palisades has spent her life doing the right thing, being the dutiful Princess, and never straying from expectations for her behaviour. On the night before her engagement to a neighboring country's Prince is set to be announced, she throws caution to the winds and lets a charming, handsome playboy sweep her off her feet and take her virginity at a masquerade ball. She doesn't regret the choice she made, though when she realizes she's pregnant she knows she's in trouble.
Damon Gale is a billionaire tech mogul who's learned from the example set by his parents that love is fiction , and marriage is only meant for personal gain. When he discovers the condom he'd used with the masked woman is broken, it's too late to warn her as she'd fled when his back was turned. He spends days trying to track her down to no avail, until she shows up at the hospital where his half sister works. Her nausea and pale features clue him in to her secret – she's pregnant! Kidnapping her to force her to admit the truth to him, he convinces her that she needs to break off her engagement and marry him as quickly as possible. It will be a marriage of convenience only, a way to explain her pregnancy and avoide scandal, and then when the baby is born they'll find a way to be amicably divorced parents doing the best for their child.
But the passion that flared between them when they were strangers isn't so easy to put aside. Steamy nights and enjoyable days turn their marriage into something that feels awfully real, at least to Eleni. Can she convince Damon that it's worth risking his heart to fall in love?
I really enjoyed this royal romance! Eleni is a woman who has always done what's expected of her except for that one time – and it changed her whole life. As a result of her pregnancy, and her somewhat tumultuous relationship with Damon, she learns to be more assertive and make clear what she wants for her future. Their first sexual encounter is one made with her full consent, and in each successive one Damon makes sure she is fully on board. They share several steamy scenes as they also cement an emotional bond.
Damon's parents stayed married even while his father was unfaithful, an affair that led to his half sister, a woman his father doesn't acknowledge. Because of this, when he realizes Eleni is pregnant he makes it clear he wants to be part of that child's future, even though he doesn't expect them to stay married just for appearances like his parents did. He thinks it will be easy to walk away from Eleni and only be a parent to their child, but as time goes by he finds himself caring for her too. When Eleni confides in Damon her true feelings about him and her hopes for the future, Damon is too afraid to commit to her fully, making decisions that he regrets almost immediately. He has to come up with a good grovel and convince Eleni that he is truly sorry for his actions in order for them to get their well deserved happy ending. I'm hoping there will be romance for Eleni's older brother as there seems to be a story brewing there as well, and I'll be keeping an eye out for romances by this author in the future!

Book Info:

Publication: April 17, 2018 | Harlequin Presents | One Night with Consequences
A secret night of bliss…
…a scandalous nine-month consequence!
While attending a royal masquerade, billionaire Damon can't resist seducing a captivating guest. It's the most shamelessly sensual encounter he's ever had! Then Damon discovers that his masked beauty was actually Princess Eleni—and now she's carrying his child. To protect Eleni from scandal, Damon must do the unthinkable, yet outrageously desirable: marry his pregnant princess!