In Dark Wolf Running (Bloodrunners #5) by Rhyannon Byrd, Dark Wolf Elise Drake has lived a life others would call privileged, but little do they know the atrocious way her father treated her and her brothers. Events over the past few years have ravaged both her body and her psyche to the point where she feels like a shell of her former self. So when Elise meets Runner, and serious bad boy, Wyatt Pallston and realizes their attraction to each other, she avoids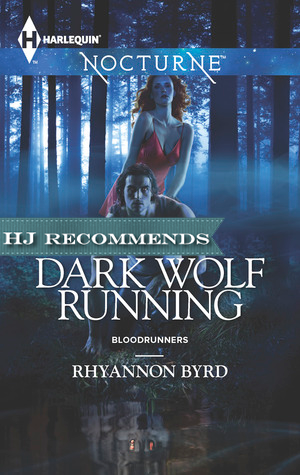 him whenever possible, knowing that she would never be able to have a meaningful relationship with him at this point.
'No matter how badly she wished things could be different, the mesmerizing Runner was a complication she couldn't afford, and so she'd vowed to stay clear of him.'
Wyatt makes it clear to Elise that he intends to pursue her, albeit to start off as friends, but to definitely work their way to something more. Instead of becoming panicked, she finds comfort in Wyatt's presence, along with a longing so strong that she can't deny it. As more trouble brews between the Runners and neighboring clans, Elise's safety is in question so Wyatt steps in to protect her. But should she be protecting her heart from the handsome Runner instead?
'Even in a pack full of preternatural werewolves, Elise Drake stood out as something vivid and bright and unique, no matter how hard she tried to hide it.'
Wyatt Pallston's pack has been trying to keep the peace but outside forces keep threatening the safety of their loved ones. He meets beautiful Elise at a pack meeting and cannot forget her no matter what he tries. Wyatt feels as though he's become obsessed when he relishes every chance encounter and sighting he has of her. After a chance to finally talk (and dance) with her at a wedding, he then comes to her rescue and saves her from a brutal attack. But having Elise in Wyatt's home while under his protection proves to be a study in self-control when his inner wolf wants nothing more than to claim her.
'Take. Keep. Mine. Those three guttural words had echoed through his head over and over, too many times to count. Primal, raw and savagely possessive.'
I just love Elise and Wyatt's story. Dark Wolf Running captured my attention and my heart! It was so truly emotional with such heartbreaking tender moments, some seriously steamy scenes, and funny moments mixed in as well.
The world that Rhyannon Byrd has created is very intriguing to me. Of course, I'm a big paranormal fan anyway, but this story just struck a chord. I loved the intensity of the character's feelings and the way they were described. I could feel Elise and Wyatt's internal struggle with their past and their longing to feel worthy of one another. It was understandable for them to want to protect each other, to be leery of committing to a relationship, and that is conveyed very clearly throughout the story. Even though there are dark topics discussed, the overall tone of the book is not heavy and I thought the scenes were well balanced.
Dark Wolf Running can be read as a standalone novel. There is a lot of information to take in, but it's done in small chunks throughout the story so it's easy to follow along. Our protagonists as well as the secondary characters were complex but relatable. I loved the sense of family and community we get from the Runners. It seems to be a common thread in paranormal stories, about wolves especially, and it draws me in every time. There's a connection between the characters in that type of setting that is so entertaining to read about.
I highly recommend Rhyannon Byrd's Dark Wolf Running for all of you paranormal romance lovers out there. Wyatt and Elise are just one of those couples that you genuinely cheer for when they finally get their HEA.
Book Info:

HJ Recommends
Published December 3rd 2013 by Harlequin Nocturne (Book 173) | Bloodrunners #5
In Rhyannon Byrd's latest Bloodrunners romance, passion and secrets collide and only their love will save two werewolves and their pack.
With his sharp gaze locked on the most magnificent female he'd ever seen, Wyatt Pallaton did his best to hold himself back. Of course, Elise Drake was hardly just any female. Fiery and cool, strong, yet at the same time achingly vulnerable, she'd turned his entire world on its head.
No matter how bloody difficult it proved to be, he was done letting her pretend he didn't even exist. Done with letting her fight her own battles. Done driving himself slowly into this maddening state of frustrated desire. One way or another, things were about to change.
Come hell or high water, she was done running…