My True Love by Melissa Foster  is the second book in her The Steeles at Silver Island series.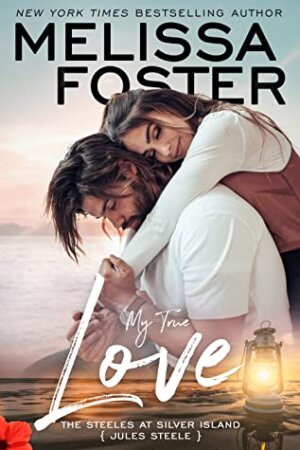 Broken hero +  Sunshine heroine = Perfect together.
Jules Steele is a cancer survivor. She was diagnosed with a Wilms tumor at the age of three and had a kidney removed. She thinks her happy and bright outlook on life is partially the result of beating cancer. She has the personality of spreading happiness to those around her. She shines so bright her dad nicknamed her "Bug" after the brightness of the lightning bug. Her life on Silver Island is just about perfect. She owns a gift shop called the Happy End which she runs with her very best friend Bellamy Silver. There is someone that could make her life 100% perfect – Grant Silver. Grant is back on Silver Island after losing his leg to an IED explosion on a mission with the covert operations group he was a part of. He's home on the island but practically a recluse. At the very least Jules is hoping to brighten his life with her friendship if that's all they are destined to have. Jules is hoping for more. She has been attracted to Grant since his last leave before his injury.
Grant Silver joined the military when he was eighteen. He was anxious to get away from the tension in his family and his anger at his father. When he lost his leg to an IED he became, angry, bitter and closed-off. The efforts Jules Steele kept making with her sweet actions finally started making him feel whole again. No one could long resist the happiness and light Jules shines on those she is around. After seeing Jules in a super sexy pixie costume at the annual island Halloween event Grant found himself calling her"Pix" for short. "Pix" seemed determined to light up his life and, darn it, he found himself really liking it. Spending time with her was addictive.
Ms. Foster has once again treated her readers to a very deeply emotional, heartwarming and super sexy story. She has taken a broken man devastated by his injury and loss of career and paired him with the perfect partner. Jules really opens Grant's eyes to all the joy and good things he still has in his life, especially her. What I like best about this book is that it has that special Melissa Foster touch. It is filled with mind-blowing romantic scenes. The special dinner Grant plans for Jules at his brother's restaurant made me sigh. So sweet and romantic. And there's so many more super romantic scenes to enjoy in this book. This story makes my heart happy. The feel-goods go on and on.
They say opposites attract. Will this hold true for Jules Steele and Grant Silver?
Book Info:

Publication: March 31st 2021 | World Literary Press | The Steeles at Silver Island #2, Love in Bloom #51
Can a man who resents the hand he's been dealt and a woman who spends her days grateful for every little thing find true love in each other's arms—or are their differences stronger than both of them? Find out in this funny, sexy, heartfelt romance, and fall in love with Grant and Jules on the sandy shores of Silver Island, home to coffee shops, boat races, and midnight rendezvous.
Even war heroes need a little help sometimes…
After spending years fighting for his country and too damn long learning to navigate life with a prosthetic leg, Grant Silver returns to Silver Island to figure out a future he couldn't fathom without fatigues and a gun in his hand. He'd almost forgotten how a man could suffocate from the warmth and caring community in which he'd grown up, and if that weren't bad enough, his buddies' beautiful and far-too-chipper younger sister won't stop flitting into his life, trying to sprinkle happy dust everywhere she goes.
As a cancer survivor, Jules Steele knows better than to count on seeing tomorrow. She doesn't take a single moment for granted, and she isn't about to let a man who used to be charming and full of life waste the future he's been blessed with. She's determined to get through to him, even if it takes a few steamy kisses…