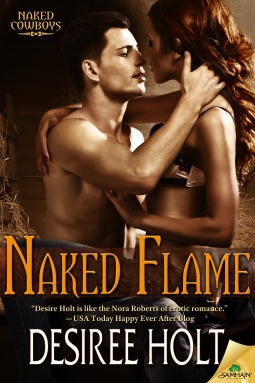 Naked Flame (Naked Cowboys, #6) by Desiree Holt is a short novella that although is the sixth book in the Naked Cowboy Novella series, can totally be read stand alone. I never once felt like I was lost in the middle of a series.
Charity Vance is a Detective with the Dallas Police Department (DPD). After helping to convict one of the most dangerous drug dealers ever to walk the streets and after receiving death because of it, Charity decides that she needs to re-evaluate her career, get away, and lay low for awhile. Deciding to visit her college roommate in the sleepy little town of Saddle Wells. What she doesn't count on is the hot, hunky, antisocial bar owner that sets her blood pumping with just a look.
Liam Douglas returned to Saddle Wells after two tours in Afghanistan. Injured in the line of duty and suffering from PTSD, Liam finds refuge in his dads bar, doing his best to be pleasant to the customers, while keeping his distance. Trying to keep good help is hard on Liam, so he is shocked and pleased when Charity jumps in to offer her help.
The white hot chemistry between them is undeniable. When trouble comes looking for Charity, threatens her friends, and Saddle Wells, Liam will stop at nothing to make sure that she is safe. But can the ex-detective and the former soldier learn to work together or will this be the test that breaks them apart.
Ok, for the most part I really liked Liam and Charity. They really had a great chemistry. Charity understands Liam and his situation better than anyone, being a former cop herself. I thought that the whole PTSD issue was kind of swept under the rug and I would have like to see a little more information about how they worked through that, but for a short novella, this was well done. I really liked Charity's friends. They are funny and supportive, they have her back and want to help and protect her.
I truly enjoyed this story and look forward to going back and reading the other books in this series, because the characters are just wonderful
Book Info:

May 5th 2015 by Samhain Publshing |(Naked Cowboys, #6)
The heat between them burns red hot…until danger turns it white.
Naked Cowboys, Book 6
Burned out from years in the Dallas PD, Charity Vance flees to Saddle Wells for a fresh start, someplace to lie low and decide what to do with the rest of her life.
Hanging out with her old college friend in the local bar, she can't help but notice the sexy, brooding owner. She also notices he needs a waitress. Charity steps in to help—and steps right into his arms.
After two tours in Afghanistan, Liam Douglas has settled nicely into running his dad's bar, but trying to keep decent help has been running him ragged. Accepting Charity's help only adds fuel to their explosive chemistry. Although neither one of them wants a relationship, pretty soon they're burning up the sheets.
When a drug lord Charity helped put away busts out of jail, Liam's overprotective streak starts to feel more like the strings she didn't want. And running seems to be the only option to save the town…and her heart. But leaving Liam is more difficult than she thought…especially when he won't let her go.
Warning: Contains a sexy, brooding man with a complicated past, a feisty heroine who thinks she's in charge and sex hot enough to burn up the sheets.