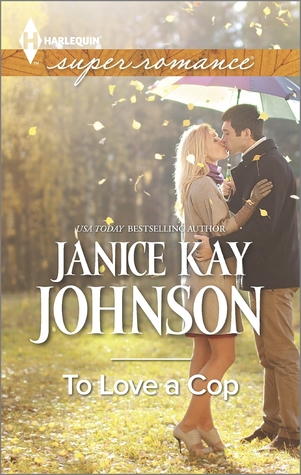 To Love A Cop by Janice Kay Johnson: How strong does one woman need to be? How strong can she be? When she finally has someone to help will she know how to share?
Laura Vennetti knew tragedy better than most. She had married a cop so she had some of the police drama in her life. The man she married wasn't very careful with his weapon either. Her son loved to play with guns and then one afternoon he found his father's and accidently shot his cousin. To say her life spiraled out of control afterwards was putting it mildly. So now over five years later she was still putting her life back on track and that of her son's as well.
Ethan Winter was a detective. He had a past yes, a divorced man, but now he spent his time trying to help people and even on his off days trying to protect the public and help make Portland a safe place. Even patrolling gun shows on his day off just to make sure he doesn't see anything "funny." He hadn't seen anything at the shows until he sees a young man that may be just a little too interested in the guns on hand.
After a chance meeting with Laura's son Ethan is quickly enveloped into the little family they make up. But a young boy growing into a man with a lot of deep-rooted psychological issues, two grownups with their own issues, oh and a group of teenagers running around terrorizing a Portland neighborhood? So many factors are playing into their lives that who knows if any of them will even make it out alive, let alone have a happily ever after.
Tense, stressful and very very real. This novel is heart wrenching and so unbelievably real it is hard to put down for any reason. Fair warning of being sucked in to see how the story turns out. Thematically Ms. Johnson has hit, and very well done, major themes like suicide, forgiveness, guns, love and fear. She holds you in suspense and even though you know it's going to have a happily ever after until that last moment you just aren't sure and it's terrifying. It's also very real and very easy to identify with in some way. Such an amazingly well written story with depth and perception of the characters, congrats Ms. Johnson you have written something to stand the test of time.

Book Info:

 April 7th 2015 by Harlequin (first published April 1st 2015)
She's sworn to protect her heart…
After what Laura Vennetti and her son have been through, she's avoided all contact with the police. Then her son brings detective Ethan Winter into their lives. Despite how appealing – and gorgeous – he is, it's safe to say Ethan isn't her dream man…
Immediately, though, Laura can see how different he is from her late husband. Ethan is thoughtful, considerate and a good influence on her son. Add in the intense attraction between her and Ethan and the temptation to give in is irresistible. To her surprise, Laura feels the wounds of the past healing, making her wonder if she could love this cop forever.