In The Nanny Trap by Cat Schield, Billionaire Blake Ford is looking for a nanny to spend the summer in Hamptons with his infant son, Andrew and who could be a better choice than the woman who gave birth to his son-his surrogate mother..!!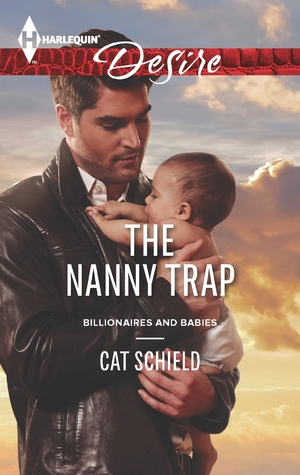 Walking away after giving birth to a son was the most painful thing Bella McAndrews ever did and now Blake wants her back in Andrew's life, only to leave him again after the summer. She is reluctant to accept his offer and go through the pain again but Blake is determined to make her the nanny and later his wife.
Blake doesn't want his son to be deprived of a mother's love. He is determined to win this woman's love for himself, too until a deep secret emerges, turning every truth upside down.
The Nanny Trap by Cat Schield is an entertaining story. It started off a little slow but became ultra fast paced halfway. It had great steam and the scenes between Bella and Blake were full of tension and hot chemistry.Those two literally set the pages of fire everytime they came close.
Blake was the perfect father and Bella was an independent heroine with a self sacrificing nature when it came to her family.
The only problem I had was the pace of the novel, which was ultra fast and therefore I had little time to understand the story.
Overall The Nanny Trap by Cat Schield is a fast paced read with great chemistry between the characters and hot scenes.Read it if you prefer the heat more than the story.
Book Info:

Published September 3rd 2013 by Harlequin
In her Billionaires and Babies novel, Cat Schield tells the story of a surrogate mother turned nanny turned stand-in wife!
Billionaire Blake Ford has one summer to get what he wants. He trusted country-bred beauty Bella McAndrews as his surrogate. Now she's agreed to be his infant son's temporary nanny. It is only a matter of time before he convinces her to capitulate to his true desire: becoming his wife.
Blake believes his son deserves a mother's love. And Blake is determined to win this woman's love for himself, too until a deep secret emerges, turning every truth upside down