In Naughty or Nice by Rachael Stewart, As teenagers, Lucas Waring and Evangeline "Eva" Beaumont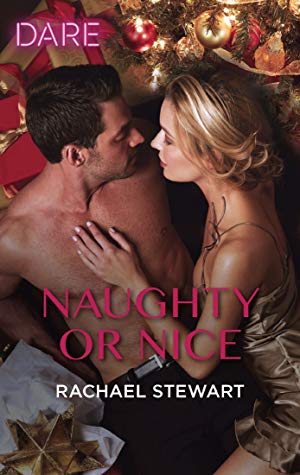 had the makings of an attraction that was just beginning to blossom. But family loyalty and demanding expectations put an end to things before they had the chance to see where it would lead. A decade later, Lucas suddenly appears in Eva's life once again. This time wanting to make a business deal with her. But the bad blood between Lucas and the Beaumonts after a business venture went south a few years ago makes it complicated. Eva is trying to be the independent woman she knows she truly is–when her family stops meddling and lets her make her own decisions. She thought choosing an investor would be her biggest challenge. Little did Eva know that deciding whether she should let Lucas back into her life, personally and in business, would be the greatest potential risk to her.
'I feel as if I'm drowning in a multitude of emotions and sensations and I can't cling to a single one. I'm hungry for them all.'
Provocative and achingly real, Naughty or Nice was a romance that quickly swept me away. Rachael Stewart created a sizzling tension between our hero and heroine that stemmed back a decade and had seen a few changes along the way. But through it all they had feelings between them that weren't just on the surface, they ran deep. I loved that Lucas and Eva had previously been–and again became–good friends in addition to their incredible chemistry. There was a smidge of distrust after they hadn't seen each other for several years, which was understandable given how they parted ways. But it was wonderful to see the sparks still there and watch Lucas and Eva explore those feelings more.
I really liked both Lucas and Eva. He was a little bit cocky but had a good heart and was a very smart businessman. It almost seemed like Lucas became that teenager Eva once knew all over again when he was around her, trying to impress her and make her smile. That was so much fun. And Eva kept her ample wits about her and stayed strong, as well as focused on her business goals. Even though there were emotions involved, she was rational and listened to her own instincts. Ultimately, Eva showed just how smart and strong she was when she made up her own mind about what really happened and if she should give Lucas a chance to be part of her business and personal life.
The romance between Lucas and Eva was absolutely on fire and had some scenes that will be quite memorable for readers. I will mention that there was a bit of light bondage–for those of you who don't enjoy that in romance–but it wasn't overly intense. Stewart really played up the attraction between Eva and Lucas, though, making this a smoking hot love story that also had the magic of being set during the holidays. What more can a fan ask for, right?
Book Info:

Publication: Published November 18th 2019 | Harlequin Dare |
She's setting the terms…in business and pleasure!
Lucas Waring was my brother's best friend – before he broke my heart and betrayed my family. Yet one glance from those dark, intense eyes, and that bolt of aching need returns. Now Lucas wants my business. But the nice Eva he knew is gone forever and naughty Eva wants her cake, and a taste of deliciously hot Lucas, too. Only my heart's about to pull the biggest betrayal of all…