Sergeant's Christmas Siegeby Megan Crane is the third book in her Alaska Force series. This book is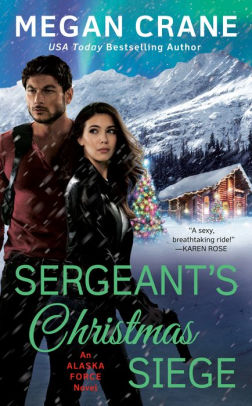 well-written, has some interesting action scenes and a fair share of intrigue.
Former Army Ranger and present Alaska Force Agent Templeton Cross is a charmer. He is more than capable of putting on a really good show. He has been sent to meet with Alaksa State Trooper Kate Holiday who is convinced Alaska Force is just a bunch of rogue criminals. They aren't, of course. Turns out Kate manages to come to the same conclusion.
The reason why Kate was sent to investigate Alaska Force was because of a couple of their warehouses exploding and boats in their harbor exploding too. That still needed to be investigated. That means more time Kate and Templeton spend together and the more time they spend together the tougher it is to ignore their attaction to one another.
This author's writing style is not my favorite but I did enjoy her storyline in this book. I found this to be an interesting romantic suspense. Don't think it is Christmas story though. It takes place at Christmastime but that's about as much Christmas as there is to it.
Book Info:

Publication: October 29th 2019 | Berkley | Alaska Force #3
Danger lurks in the wilds of Grizzly Harbor this Christmas but it's love that has Alaska Force in the cross-hairs, from the USA Today bestselling author of Sniper's Pride.
When straight-arrow, by-the-rules Alaskan State Trooper Kate Holiday is sent to investigate a local band of secretive commandos in remote Grizzly Harbor over the holidays, her least favorite time of year, her objective is clear: disband Alaska Force and arrest them. But Kate didn't count on the diabolical temptation of Templeton Cross. The former Army Ranger exudes charm and has absolutely no respect for the rules of law that govern Kate's life – too bad he also makes her mouth water and her knees weak.
Templeton has always been good at keeping his game face on and his emotions hidden, especially in combat. But working with Kate brings back memories of losses he prefers to keep locked up tight. As the pressure mounts – and Christmas draws closer – it's a given that someone's going to get hurt.
Trouble is, the more time he spends convincing his careful, wary trooper that there's more to the holidays than her memories, the more he wants to keep her around. Forever.
But forever is the one thing a man like Templeton can't do. Not even at Christmas.