In Neon Gods (Dark Olympus, #1) by Katee Robert, Hades knows his tragic background is something people in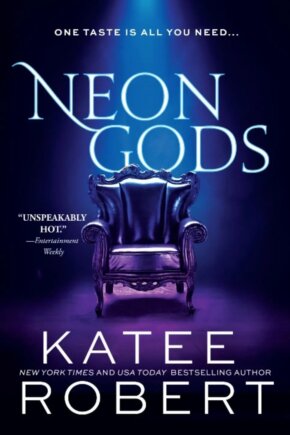 Olympus whisper about, thinking his family line died out and that no longer is anyone behind the figurehead title. Little do they know he's been biding his time for years to exact revenge on Zeus. Nor do most of them realize that Hades has an entire city's worth of people loyal to him across the River Styx from his nemesis.
'Hades is not a myth, but I'm more than happy to play the boogeyman in real life it is accomplishes my goals.'
When supposed socialite Persephone Dimitriou ends up in Hades part of the city–and in his arms, for protection–he's pretty sure he's just found his way to take Zeus down. Persephone enlists Hades' help: she will find freedom from Zeus's surprise proposal by leaving Olympus for good, and Hades will end Zeus's reign of power. But the attraction that surfaces between them is too strong for them to resist. And with danger swirling around them, Persephone and Hades will have to take care not to lose focus on their mission–easier said than done with the out-of-control passion running rampant between them.
"They see a monster about to devour a pretty princess. They see me taking one of their own and dragging her down into the dark with me. I'm ruining you before their very eyes."
"Good," I whisper fiercely. "Ruin me, Hades. I want you to."
Neon Gods was a delectably sexy, contemporary retelling of Greek mythology from Katee Robert with all the power struggles and double-dealings you would expect from Hades, Persephone, Zeus and the rest of the figureheads in Olympus.
'Nothing will change the course we're on. A path shared for a short time while his need for revenge and my desire for freedom overlap. It was never meant to last forever.'
Leave it to Katee Robert to take some of our favorite mythological figures (for those of us who enjoy mythology, that is) and not only set them loose in the present day, but she added an element of kink and light BDSM to really up the heat factor. I will admit that I wasn't sure how I would like seeing Hades and Persephone in a modern setting but it really worked well. Even the erotic edge fit the couple to a tee. To me, Robert used the whole Dom/sub aspect to enhance an already tension-filled relationship when Persephone and Hades made a deal to keep her safe and to get justice against Zeus. I do want to mention that there is some exhibitionism involved. So for readers who aren't comfortable with that type of kink in romance, you might want to skip a couple of the love scenes. (It will be obvious which ones)
I think my favorite part–aside from it simply being a retelling about Greek mythology–was seeing how Robert carefully created characters who had to wear certain masks in public but who were quite different than their persona suggested. Hades and Persephone were wonderful surprises once their true personalities showed through. I won't give spoilers. But I will say that grumbly Hades seemed to be dark and broody, ready to take out anyone who crossed him. That was true to a certain extent, but who he really was will have you swooning and fanning your face. (lol) And Persephone was described as a "sunny" socialite who did whatever her mother, Demeter, told her to do. Not so much. The reality was far better and kept with what I expect from Robert's smart, capable heroines.
Edgy and smartly written, Neon Gods had an absolutely electric storyline filled with just enough authentic details from mythology to add depth to this steamy modern romance. If you're looking for something a bit off the beaten path for your summer reading list, Katee Robert's newest will surely keep your interest.
QOTD: Have you read any "retellings" of Greek mythology or of any classic literature that you really enjoyed? Let us know if you have!
Book Info:

Publication: Published June 1, 2021 | Sourcebooks Casablanca | Dark Olympus #1
He was supposed to be a myth. But from the moment I crossed the River Styx and fell under his dark spell… he was, quite simply, mine.
Society darling Persephone Dimitriou plans to flee the ultra-modern city of Olympus and start over far from the backstabbing politics of the Thirteen Houses. But all that's ripped away when her mother ambushes her with an engagement to Zeus, the dangerous power behind their glittering city's dark facade.
With no options left, Persephone flees to the forbidden undercity and makes a devil's bargain with a man she once believed a myth… a man who awakens her to a world she never knew existed.
Hades has spent his life in the shadows, and he has no intention of stepping into the light. But when he finds that Persephone can offer a little slice of the revenge he's spent years craving, it's all the excuse he needs to help her—for a price. Yet every breathless night spent tangled together has given Hades a taste for Persephone, and he'll go to war with Olympus itself to keep her close…
A modern retelling of Hades and Persephone that's as sinful as it is sweet.