Her One-Night Secret by Traci Douglass: This is exactly the type of promotion that Stacy Williams needs, it will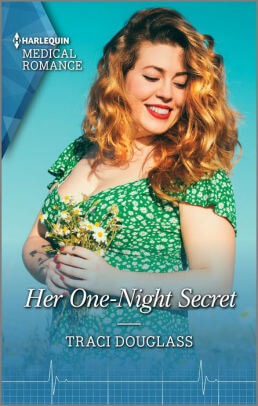 give her and her son the stability that they both definitely need. As a firefighter Stacy is used to living with a bit of danger but taking on the role of fire chief will afford her and her young son a bit more peace of mind.
However the last thing Stacy expected was to run into the hot doctor that she shared a steamy night with five years ago. With Luis back in town Stacy can finally tell him about the little gift that came from their steamy night together.
I love a book set in Key West, there is just something so tropical about this location that always translates to the text. The thing I loved the most about this novel was our heroine, how awesome was it that we got a romance about a female firefighter!
I really enjoyed the added suspense/drama element that the hurricane added to the novel, but it was getting to see Luis and Stacy reconnect that made this story oh so sweet. I really like Luis, I mean what's not to like about the guy? He is a hot doctor that travels the world to help the less fortunate. I do have to say that he took finding out about his son pretty well and worked to create a father son bond. Though the true star of this novel has to be Stacy, I love a strong independent female character and this was Stacy down to a T.
Overall Her One-Night Secret is very cute second chance romance between two first responders who finally get to find their happily ever after.
Book Info:

Publication: May 25th 2021 | Harlequin Medical Romance |
A return, a reunion…
…A shocking revelation!
Firefighter Stacy Williams knows two things about her return to Key West. Her promotion gives her the security she needs to raise her son, and it will be almost impossible to suppress the memories of her passionate night with Dr. Luis Durand. Almost…until working on the hurricane response team brings an encounter with the tall, dark and nomadic doc! And the chance to make her life-changing confession…
A First Response in Florida novel