In Never Enough by Kelly Elliott, bull rider Brock Shaw has thrown himself into his work since the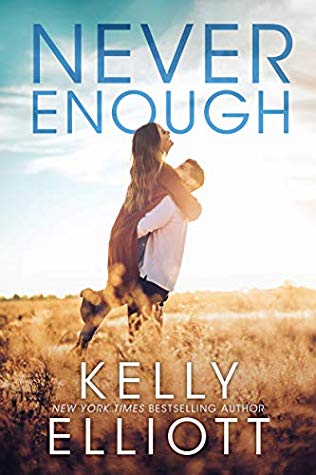 death of his wife, often leaving his young son with his parents and brother. Interior designer Lincoln Pratt left Atlanta for a fresh start, to prove to her parents she can be successful without their help. She buys Brock's old home on the ranch, where they run into one another when he finally returns. Brock doesn't make the best first impression, but the more time they spend together, the more his walls start to crumble. Will he be able to put his past behind him and give love another shot?
I really enjoyed this story. There was great character growth for Brock throughout the book. At first he's downright rude to Lincoln, and he's not that nice to his brother, Ty, either. The only people he seems to be cordial with are his parents and his young son, Blayze. I enjoyed watching him progress from being rude to coming around and thawing towards both Lincoln and his brother. He carries around guilt about his wife's death, which kept him from being open to love again. It also made his attitude more understandable.
Lincoln was great. While Brock gives her an attitude as soon as they met, she doesn't shy away and back down. She stands up for herself and refuses to let him get to her. I loved how she and Blayze instantly connected, too.
Speaking of Blayze, I thought he was absolutely adorable. He doesn't hesitate to welcome Lincoln into his world, and it was clear he and Brock were close, despite the fact that Brock was often away riding bulls. In a way, he helps Brock realize that it's ok to move on.
He smiled, like he knew something I didn't. Then he patted my shoulder. "Don't be afraid, Daddy. Mommy wants you to be happy and for me to have a mommy here to take care of me."
My breath caught in my throat. "Mommy?"
Blayze nodded. "She visits me in my dreams, and she tolds me that. She tolds me I was supposed to tell you it was okay to wove someone. That she knows you woved her."
Never Enough is a well-written, heart-warming story with characters readers will fall in love with. I would recommend this to those readers who enjoy books about cowboys and small-town romances.

Book Info:

Publication: December 10, 2019 | Montlake Romance | Meet Me in Montana #1
Longing to forget the pain of his wife's death, Brock Shaw has immersed himself in the one thing that lets him escape the guilt. Bull riding. But life on the road means leaving his young son at home with his parents. They want him to give up his career and be a father to his child, but Brock needs the adrenaline to get through each day…or so he thinks.
Lincoln Pratt needs a fresh start. As a top interior designer in Atlanta, she has everything she could ever want, but she's always at her father's mercy. Something's missing, and Lincoln knows she'll only find it somewhere far away—like the rolling pastures of Hamilton, Montana, where she meets the irresistibly mysterious Brock.
In Brock Shaw, Lincoln sees the part of her that's missing. In Lincoln Pratt, Brock sees the part of himself he thought he'd lost. But the pain of his past binds him. Can he let himself love again?