Iron Will is the second book in author B.J. Daniels' Caldwell Ranch:Montana legacy series.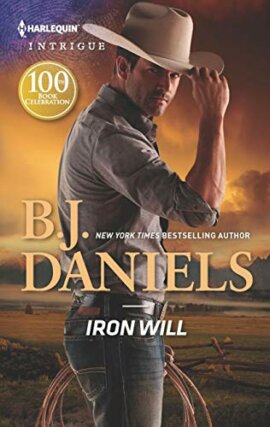 Hank Savage left Big Sky, Montana three years ago after the death of his long-time girlfiend, Naomi. He believes she was murdered so had a falling-out with his father, Hud Savage who is the sheriff of Big Sky after Sheriff Savage agreed with the coroner's ruling that Naomi committed suicide.
Hank hasn't been back since then. Now he is returning with the P.I., Frankie Brewster, who he hired to investigate what really happened. Their plan is to pretend to be a couple to throw off everyone so it is not realized that they are investigating. Frankie is a talented P.I. who knows how to ask the right questions. Those questions lead to danger for Hank and Frankie. Add in that Hank and Frankie find themselves attracted to each other and you have another twist in their investigation. Frankie is doing her job a little too well. It may cost them their lives.
This series deals with the children of Dana Caldwell Savage who we met a number of years ago (2013) in Crime Scene at the Caldwell Ranch. Dana's children have now left Big Sky but in this series they are returning for various reasons. B.J. Daniels fascinates with lots of twists and turns, action and surprises. This storyline has some very surprising revalations.
I always like the author's characters. In this case she delivers a likeable couple; both of whom are strong, caring characters. So far this series has been full of intrigue and an interesting look into the Savage family dynamic. Romantic Suspense fans are going to love this book!
Book Info:

Publication: July 16th 2019 | Harlequin Intrigue | Cardwell Ranch: Montana Legacy Book 2
Are a dead woman's secrets
enough to kill for…?
Hank Savage has always believed his old girlfriend was murdered. Now he's come home to Cardwell Ranch and, with the help of PI Frankie Brewster, is determined to find the killer. Trying to keep their feelings at bay, Hank and Frankie quickly learn that every lead reveals a life steeped in secrets—and danger. And that someone from Hank's past will do anything to keep the truth from being revealed.