Never Trust a Cowboy by Kathleen Eagle: Del finds a way to get himself hired as a ranch hand by Brad, the owner's stepson, while he is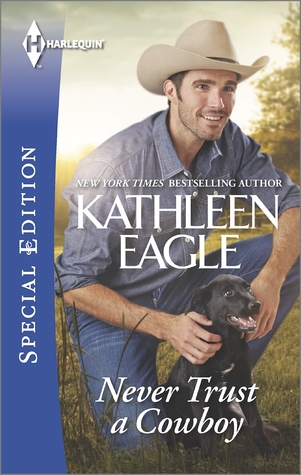 investigating the Flynn ranch. Del is a hardworker, a jack-of-all-trades around the ranch, and loves dogs. He tends to judge others, especially cowboys, by how their treat animals. Del is an intriguing character, as his past is somewhat of a mystery.
Lila's only concern is trying to find her beloved dog, Bingo. Lila lives in her own house on the ranch, separate from her dad, stepmom, and Brad. She wasn't expecting to like or connect with the newest ranch hand, but Del is different. They connect over their mutual love of dogs as Del assists in the search effort for Bingo. They also connect over the pain in their pasts. I loved how he found ways to help out at the ranch and around Lila.
"she would have said, "I told you, never trust a cowboy.' But those bookcases…"
"You don't have them yet."
"But I will. You strike me as a man who finishes what he starts. Anyway, you did. You blew me off. But when I saw you outside tonight, I knew how I felt. I know you."
"Feeling and knowing are two different things."
"True. So tell me what else I should know."
"I could tell you anything right now, couldn't I? Think about that, Lila. Think about what your friend would tell you, what she'd tell you now."
Del has to walk a fine line trying to be as honest as he can with Lila while he is keeping secrets about who is he and why he is there. But he also has to walk a fine line as he investigates the cattle rustling operation.
He hated lying, and this was one thing he wouldn't lie about. When she found out what he was up to, she would never believe him again, but right now, in this moment, he wanted her to know the deepest, brightest, most important truth he had in him.
I really enjoyed Never Trust a Cowboy! Kathleen Eagle created a really good balance between the heartwarming romance, the mystery of Del's current assignment, and the mystery of who was involved in the cattle rustling. Ms. Eagle also created strong characters (humans and dogs).
If you like cowboys, small towns, and mysteries, then I would recommend reading Never Trust a Cowboy.
Book Info:

Publication: December 16th 2014 by Harlequin Special Edition Series #2377
The last thing harried Lila Flynn needed was another cowboy to deal with. But new hire Del Fox was different than most sweet-talking wranglers. The hard worker had a gentle touch and eyes that spoke of a past he didn't share. Lila soon found her hardened heart softening, frightening her more than any other hurdles she was facing.
Del's assignment in Short Straw, South Dakota, was meant to be fast and simple. Falling for Lila Flynn, however, had complicated everything. If he did his job right it would mean destroying everything Lila had worked for. He'd given her every reason never to trust him again. But when all was said and done, would she trust their love enough to give them a second chance?