In Snow Angel Cove (Haven Point #1) by RaeAnne Thayne, Aidan Caine may be the CEO of his own Fortune 500 tech business, but he's really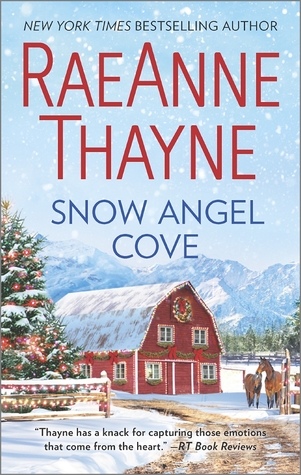 just a small town guy at heart. That's one of the reasons he bought the Snow Angel Cove lodge in Haven Point, Idaho. So he'd have a place to get away from the stress of his job and recuperate from a scare he had three months ago. Just before Christmas, Aidan runs into Eliza Hayward, quite literally, and offers her and her sweet daughter Maddie a place to stay and rest for the night. But by the next day, he's scrambling to come up with a reason for them to remain at the lodge. Aidan quickly becomes attached to both Eliza and Maddie and can foresee them building a life together. He knows Eliza has had a difficult road, but he's determined to be the one person who won't let her down.
'He thought of what his father had said, that a person had to survive the dark in order to fully appreciate the light–the joy and love and miracle of life. Eliza was his light, his miracle, his joy. His love.'
Upon arriving in Haven Point, Eliza Hayward finds out her manager job at the local hotel is no longer an option, considering the smoldering wreck of a building she now stands before. With an impending snowstorm and nowhere in town to stay, she and her five-year-old daughter Maddie will likely have to go back to Boise. But a run-in in town leaves her with no option but to take Aidan Caine up on his offer of lodging for the night. Eliza can feel the sparks of attraction between herself and the wealthy geek god, but can't imagine that it would go any further. Why would a billionaire want a single mom and a young girl with serious medical issues in his perfect life? Getting too emotionally involved isn't an option. She'll just have to keep repeating that to herself until she takes it to heart.
"I'm a realistic kind of girl. Life hasn't given me a lot of choice in that pragmatism. The way I see it, you're like a fairy-tale prince and I'm Cinderella without the godmother and the cool shoes."
Magical. Snow Angel Cove is an absolutely magical, overwhelmingly emotional holiday story that had me shedding happy tears more than once. *sniff sniff* I think RaeAnne Thayne is off to a tremendous start in this spinoff of her popular Hope's Crossing series.
'He had the ability to make a huge difference in Haven Point, for good or for ill. It was a humbling realization.'
This first installment of the new Haven Point series is about more than just Aidan and Eliza finding love with each other. Although that was wonderful enough on its own. No, this is also about a community that has been struggling to survive after the loss of jobs and opportunities. We got to meet some of the townspeople that will obviously be important to future storylines and learned some of the history of this picturesque location. I think it will be interesting to see how things play out for Haven Point and it's residents, watching to find out if they can turn things around with Aidan and Eliza's help in the future. I have a feeling they'll come up with some great ideas on how to help rebuild the town they've grown to love.
As for Aidan and Eliza…well, where to begin? I can't give away too many details about them so as not to spoil the plot. However, I can say that Aidan was at a very fragile place after overcoming a huge hurdle in his personal life. He was at a point where Eliza and Maddie coming into his world both scared him and made him realize how much he wanted to forge a new beginning with them. I loved how down-to-earth Aidan was and how much he cherished his family back in Hope's Crossing. Eliza was just as grounded, having been Maddie's caretaker through her medical issues and knowing how to take each day as a blessing. Above it all, I felt like they were simply meant to be together. There was something so tender and sweet about how much Eliza and Aidan cared for each other and how they both protected Maddie. Seriously…I'm getting teary eyed just thinking about it. 😉
Talk about a touching, heartwarming story. I can't say enough good things about Snow Angel Cove aside from how much I think romance fans will love it.
Book Info:

Published October 28th 2014 by Harlequin HQN |(Haven Point #1)
New York Times bestselling author RaeAnne Thayne welcomes you to a small town full of big surprises that are both merry and bright…
Nothing short of a miracle can restore Eliza Hayward's Christmas cheer. The job she pinned her dreams on has gone up in smoke—literally—and now she's stuck in an unfamiliar, if breathtaking, small town. Precariously close to being destitute, Eliza needs a helping hand…for her sick young daughter's sake as well as her own. But she's not expecting her holiday hero to almost run her down with his car!
Rescuing Eliza is pure instinct for tech genius Aidan Caine. At first, putting the renovation of his lakeside guest lodge in Eliza's hands assuages his guilt—until he sees how quickly he could fall for her. Having focused solely on his business for years, he never knew that what his life was missing was Eliza and her little girl. But is he willing to risk hoping for a yuletide romance that could lead to forever?