In New Leash on Life (The Dogfather #2) by Roxanne St. Claire, Shane Kilcannon's job as the lead dog trainer at his family's rescue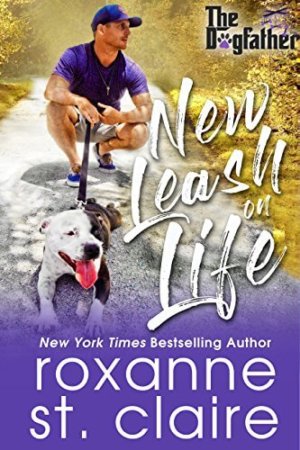 facility–or dog whisperer, as he's called–is so much more fulfilling than his law career ever was. And it coincides perfectly with his crusade to turn people into dog lovers. Especially when it comes to pit bulls. With the arrival of tourism specialist Chloe Somerset to town, a woman who takes perfectionism to new levels, Shane sees a chance to help her let go of her fears. Including dogs. Pairing her with a loving Staffy named Daisy who needs a temporary home proves to be a match made in heaven. And it isn't long before Shane is wondering if he might have found his own match in Chloe.
"I'll be honest, I don't think I've ever petted a dog."
He almost slammed the brakes out of shock. "You've never petted a dog?"
"I told you, I'm not a dog person."
"But…but…are you even a person? Who hasn't ever petted a dog?"
Order and cleanliness rule Chloe's life after a childhood of the complete opposite. She spends her time mainly on the road, traveling from place to place with her self-owned tourism company, but she's proud of the many successful campaigns she's created. And she's sure that Bitter Bark will be another win. But Chloe wasn't expecting such a public outcry at changing up things in town, including its name. In other words, she's got her work cut out for her. With the Kilcannon family firmly on her side, a few key townspeople in her corner, and a stunning rescue dog she and the town soon fall in love with, Chloe is ready to prove her ideas will work. The one thing she wasn't prepared for, however, was her interest in Shane to go from just flirtatious to the real deal in a few short weeks.
"And you…" She grabbed his backside. "Are not going to deny me the bed-shaking, brain-rattling, sweat-inducing, six orgasm-producing sex that a guy like you was built to deliver."
He stared at her, stunned. "Six?"
"Okay, five."
"Oh, I can do six."
Roxanne St. Claire never fails to make me swoon over her heroes and want to befriend her heroines. And that was especially true while reading New Leash on Life. Not only did we have a stellar romance here, but there was drama with the local townsfolk, and of course a beautiful rescue dog who saved the day and warmed my heart.
'…Just because he believed the world should love dogs like he did didn't make it so.'
I mentioned this with book one, Sit…Stay…Beg, but I wanted to remind readers that Rocki is graciously donating proceeds from her first month sales for each book in the series to the Alaqua Animal Rescue in Florida. And that the gorgeous dogs that grace the covers are actual rescue pups who have found their forever homes.
Shane and Chloe ended up being a super fun couple, both of whom had some demons/issues from their past to deal with, but who were absolutely loyal and honorable to those they loved. Shane was smart and sexy, a great representative for the Kilcannon family, and was on a mission to change people's minds about pit bulls. I really enjoyed how he flirted with Chloe and how well he could read people. And dogs. He *was* the so-called dog whisperer at Waterford Farm after all. I do have to say that Shane's choice of a Staffordshire Bull Terrier (aka Staffy) named Daisy to help Chloe get over her fear of dogs tugged at my heart. My first dog as an adult was a Staffy mix named Milo so I could really relate while reading about Daisy's personality and her mannerisms.
Between Shane and Chloe, I felt like Chloe showed the most personal growth in this story–although Shane did change for the better as well. I loved that she knew her faults and her strengths and that she was continuously working to overcome her fears in life. She called it "breaking down the barriers" and that was definitely an accurate phrase. Shane was always there to help push Chloe just a little bit further and try new experiences in a safe way. (Their muddin' escapade was so much fun!) Her tenacity, intelligence, and particularly her capacity for love made Chloe a fantastic heroine and a great addition to Bitter Bark, North Carolina.
I am so in love with Rocki's latest series, The Dogfather, which deftly combines feel good romance with the dynamics of a large family, creating a story so full of emotion and so heartwarming that you won't want it to end. Thank goodness there are a lot of Kilcannon siblings yet to receive their HEA so we have several more books to look forward to.

Book Info:

Publication: Published May 19th 2017 | South Street Publishing | The Dogfather #2
The Dogfather is a brand new contemporary romance series from New York Times bestselling author Roxanne St. Claire celebrating what she loves most: hot guys, great dogs, big families…and true love. And a portion of the proceeds from every book in the series will be donated to the Alaqua Animal Refuge in the author's home state of Florida!
New Leash on Life
When former attorney and current dog whisperer Shane Kilcannon messes up his chance with a beautiful stranger whose confident smile and quick wit intrigue him more than any woman he's ever met, he's ready to snarl like one of his beloved pit bulls. But Shane's work with the wildest and wariest of his family's rescue dogs has taught him patience and persistence. When his father hands him the opportunity to work alongside that very same woman who has come to town with groundbreaking tourism plans, he seizes it. He even offers to help her win over the locals, as long as she is willing to give a temporary home to one misunderstood dog…and spend plenty of time with Shane.
Chloe Somerset has built a reputation in the tourism industry as someone with big ideas that put little places on the map, and she's certain she can do the same for Bitter Bark, North Carolina. All she has to do is convince one small town to change its name, open her clean-freak heart to a dog with a penchant for face-licking, and avoid the landmines of local politics when her plans divide the townspeople. But none of that is as scary as the feeling of falling hard for a sexy charmer who whispers all the right things and tempts Chloe to forget a lifetime of hard lessons. Shane might know exactly how to get through to the creatures who need care the most, but he's met his match with Chloe, and it'll take every trick he knows to teach her to fall in love.
The Dogfather Series
Daniel Kilcannon is known as "The Dogfather" for a reason. It's not just his renowned skills as a veterinarian, his tremendous love of dogs, or the fact that he has turned his homestead in the foothills of the Blue Ridge Mountains into a world class dog training and rescue facility. Ask his six grown children who run Waterford Farm for him, and they'll tell you that their father's nickname is due to his uncanny ability to pull a few strings to get what he wants. And what he wants is for his four sons and two daughters to find the kind of life-changing love he had with his dearly departed wife, Annie. This old dog has a few new tricks…and he'll use them all to see his pack all settled into their happily ever afters!
SIT…STAY…BEG (Book 1)
NEW LEASH ON LIFE (Book 2)
LEADER OF THE PACK (Book 3)
BAD TO THE BONE (Book 4)
RUFF AROUND THE EDGES (Book 5)
DOUBLE DOG DARE (Book 6)
OLD DOG NEW TRICKS (Book 7)
About the Author
Published since 2003, Roxanne St. Claire is a New York Times and USA Today bestselling author of more than forty romance and suspense novels. She has written several popular series, including Barefoot Bay, the Guardian Angelinos, and the Bullet Catchers.
In addition to being a nine-time nominee and one-time winner of the prestigious RITA™ Award for the best in romance writing, Roxanne's novels have won the National Reader's Choice Award for best romantic suspense three times, as well as the Maggie, the Daphne du Maurier Award, the HOLT Medallion, Booksellers Best, Book Buyers Best, the Award of Excellence, and many others. She lives in Florida with her husband, and still attempts to run the lives of her teenage daughter and 20-something son. She loves dogs, books, chocolate, and wine, but not always in that order.