In No One But You (Silver Springs #2) by Brenda Novak, Even though Dawson Reed has recently been found not guilty of murdering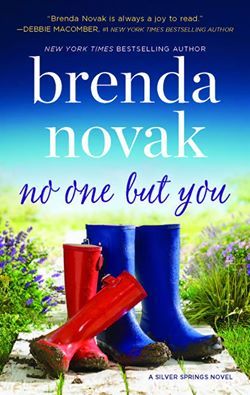 his adoptive parents in their home, he knows it's going to be an uphill climb to get the residents of Silver Springs to believe in him again. A rough past and mistakes as a teen don't help his situation. But getting the family farm back up and running and bringing his sister Angela home will do a lot to make things right. So when Dawson hires Sadie Harris, a local single mom, as a housekeeper and caregiver for Angela, he knows he's on the right track. But soon Sadie's police officer ex-husband begins to threaten them both and tries to turn the town even further against Dawson. And while he's certainly not looking for a fight–or love–it seems it might have found him anyway.
"I've been trying so hard not to love you," she whispered.
He kissed her neck. "How's that going for you?"
"I'm failing. Miserably."
He couldn't help smiling.
After years of emotional and verbal abuse, Sadie is trying to free herself from her ex-husband Sly. Her biggest reason is the appalling way he treats their young son Jayden. She's sure it will only get worse and she can't do that to her sweet little boy. Sadie knows she's taking a big risk accepting a job on the Reed farm, but it's a good thing she takes the local gossip with a grain of salt. After a rocky beginning, she can feel in her heart that Dawson couldn't have murdered his folks. No one so compassionate or kind to her child could do something so gruesome. Her ex, on the other hand, has proven himself capable of harming others and using his position as a cop to get whatever he wants. And unfortunately, he still wants her. Sadie hates to put Dawson in the middle of her domestic drama, but with their feelings growing for each other it's only a matter of time until everyone finds out–which will push Sly to take things even further.
'She found it so ironic that they both trusted Dawson more than they did Sly–intuitively–in spite of how everyone else felt about him.'
A misunderstood hero. An emotionally shattered heroine. One seemingly hopeless situation. Author Brenda Novak is known for putting her characters through their paces, but No One But You definitely took it up a few notches. And as a reader, I couldn't help but get drawn completely into this heart-wrenching story.
'Regardless of what the jury said, he was guilty in the minds of all those who lived around here.'
Trigger warning: Murder, stalking, emotional and verbal abuse by a controlling spouse. Also partly written from the abuser's POV.
As a huge fan of Brenda Novak's work, I know that I'm in for a roller coaster of a ride when it comes the emotions she's going to throw at her characters. And wow was that true for Dawson and Sadie. To say that they both went through hell in this book is putting it mildly. And for me it was reminiscent of Phoenix's struggle in This Heart of Mine, Whiskey Creek #8 (which is my favorite of all Novak's books thus far) where an entire community railed against Phoenix after she was falsely accused of a crime. Dawson was similarly falsely accused here, in his case it was of murdering his adoptive parents. But sadly, even after having his name cleared, the town wouldn't believe he was innocent.
My heart truly went out to Dawson for all he went through. I thought he was a great hero. One who had been through many difficult trials in his life but who was hellbent on setting things right. I loved his strength and his protectiveness of Sadie and her little boy Jayden. Dawson's easy relationship with Jayden melted my heart and had me smiling many, many times. And I thought it was wonderful how Novak showed how caring and compassionate Dawson was in the tender way he handled his adopted sister Angela, who was mentally challenged. It still brings tears to my eyes thinking about some of the scenes where he showed her patience and with how you could just tell how much he loved her and missed their parents.
Sadie was also dealing with her own personal issues with a town who didn't understand how domineering and abusive her cop ex-husband Sly was. I have to give her kudos for taking the first step of filing for divorce and leaving Sly, knowing that the abuse was going to end up harming Jayden before long. Sadie showed how strong she was through the entire story, doing everything she could to provide for her son and to try to stop her ex. I felt like her uneasy reaction to Dawson when they first met, although I cringed on his behalf, was to be expected given that his name had been deeply tarnished. But I loved that Sadie was able to see that Dawson was a truly good guy, becoming his biggest advocate. That connection between them was incredibly wonderful.
No One But You is one of the many reasons why Brenda Novak is my go-to author for romances with complicated emotions and multidimensional characters. Whether this is your first or twentieth time reading her novels, I think fans will be impressed with this story of redemption and perseverance.
Book Info:

Publication: May 30th 2017 | MIRA | Silver Springs #2
New York Times bestselling author Brenda Novak welcomes you to Silver Springs, a picturesque small town in Southern California where even the hardest hearts can learn to love again
Struggling to make ends meet after a messy divorce, Sadie Harris is at the end of her tether. Her waitressing gig isn't enough to pay the bills let alone secure primary custody of her son, Jayden, a battle she refuses to lose. Desperate, she accepts a position assisting Dawson Reed the same Dawson Reed who recently stood trial for the murder of his adoptive parents. Joining him at his isolated farm seems risky, but Sadie is out of options.
Dawson has given small town Silver Springs plenty of reasons to be wary, but he's innocent of the charges against him. He wants to leave his painful past behind and fix up the family farm so he can finally bring his dependent sister home where she belongs.
As Sadie and Dawson's professional relationship grows into something undeniably personal, Sadie realizes there's more to Dawson than the bad boy everyone else see she has a good heart, one that might even be worth fighting for.