In Next Stop: Love by Miranda J. Fox, Sophia Neumann has decided it's time to start living her life the way she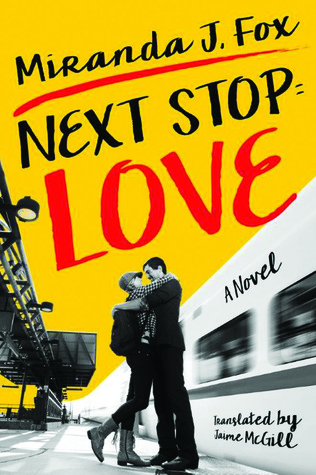 wants, instead of continuing to follow the expectations dictated by her overbearing mother. An interview with an entertainment company is the perfect opportunity to start afresh. Yet, she has to survive the train ride to Berlin first, after a ticketing error forces her to share a train compartment with sexy businessman, Luca Marcs.
Sometimes when I read a book for review, I like to disregard the blurb and get straight into reading. This book was one of those times, and although the plot was good, I thought the start was a tad predictable. The fact that Sophia was heading to an interview; and Luca being a successful businessman, made it pretty obvious he'd be the one to interview her. However, that did not deter me from reading the rest of the story. In fact, it made me want to read more. Especially considering the first line spoken between the pair; provides a real eye-opener to a dialogue, which diversified between slight hostility, growing love and amusing moments that never failed to coax a smile from me.
"You can come in," he said, shaking me out of my trance. "I don't bite."
See what I mean? That line certainly is enough to grab a readers' attention, and made me intrigued to see how Sophia and Luca's relationship progressed. Yet, in saying that, I was a little disappointed, by the fact that this story was only told, from the heroine's point of view. It would have been nice to see Sophia through the hero's eyes.
Also, I was a tad frustrated that the author kept the romance in this book fairly mild with just a few heated kisses. Instead, of using the intense attraction between Sophia and Luca, to create some steamy sex scenes, worthy of their strong chemistry. What I liked so much about Sophia was her bravery when she finally talked to her mother.
Overall, this was a good book, of which the secondary characters certainly added more enjoyment to. I would recommend it to readers that love a sweet romance.
Book Info:

Publication: September 15th, 2015 | Amazon Crossing |
Twenty-five-year-old Sophia Neumann has a big interview in Berlin, and if it goes well, the new job will allow her to escape her overbearing mother and make a life on her own. Unfortunately, the trip starts off on the wrong foot when she is forced to share a train compartment with an arrogant and devastatingly handsome businessman, one who both provokes and intrigues her. Once they arrive, Sophia is relieved to leave him behind—until she walks into her interview at Marcs Entertainment and discovers that he's Luca Marcs, her potential new boss.
With office politics in mind, Sophia is determined not to mix business with pleasure. Yet what began as discord soon turns to desire, and when Luca reveals his feelings for her, Sophia will have to ask herself: Is this just a case of interoffice lust, or is Luca the real deal?