Nightchaser by Amanda Bouchet is the first story in her sci-fi romance series Endeavor. It's full of action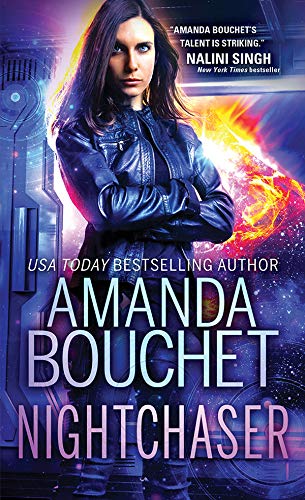 and adventure and the story starts with a bang to keep you on your toes from the beginning to the end!
Tess Bailey has known lots of hardship in her twenty six years and it's led her to her current position – captain of the star ship Endeavor and its small crew. They pride themselves on being Nightchasers, Robin Hood-esque thieves who steal from the rich and powerful to help the less fortunate. Tess tries to stay out of the limelight but when her crew steals a lab and the powerful vaccines inside it she's forced to make some quick decisions when the military government will stop at nothing to get them back.
Landing on an out of the way Sector with a ship that barely survives a trip through dark matter, Tess seeks out someone who can repair her ship and make it space worthy again. She meets Shade Ganavan, clearly a space rogue but the guy who can get the job done without asking too many questions. Of course Shade has as many secrets as she does, but that doesn't stop them from acting on a mutual attraction for a sexy fling while she's in space dock. But can she trust the smooth talker or will it end with her and her crew in even deeper trouble?
I loved the action packed start to this series and settled in for a fun and exciting ride! Tess has a crew of five – Jaxon, her best friend, and the man who helped her survive a stint in a prison colony, Miko and her grandmother Shiori, and Fiona, their resident biologist who all joined Tess when they escaped from the prison. They've been together for five years when this story starts and have gotten into all kinds of scrapes but always made it through. This time though, they may have stolen the one thing that won't be ignored by the higher ups. The story is told in first person point of view by Tess and third person point of view by Shade in alternating chapters which is a unique way to write the story but makes it clear that it's Tess's to tell.
Tess is special, and the reader learns more about her as the story progresses and some surprisingly revelations are made. Shade and Tess get to know each other a little bit better as he works on repairs to her ship, leading to some sexy love scenes. But things aren't always what they seem, and the crew is forced to make more snap decisions and some harrowing and action packed scenes ensue. I don't want to give away too many details except to say that Shade and Tess come to an understanding (we'll call it a happy for now ending for them) and the story is clearly not over for the Endeavor crew. The worldbuilding is really interesting and if you're a fan of Star Trek or Star Wars type science fiction stories, you'll definitely be interested in this one! I can't wait to continue the series!
Book Info:

Publication: Jan 01, 2019 | Sourcebooks Casablanca | Endeavor #1
Captain Tess Bailey and her crew of Robin Hood-like thieves are desperate and on the run. Pursued by a vicious military general who wants them dead or alive, Tess has to decide if she can trust Shade Ganavan, a tall, dark and arrogant stranger with ambiguous motivations.
Shade Ganavan had oodles of arrogance, oodles of charm, and oodles of something that made me want to kick him in the nuts.
What Tess and Shade don't know about each other might get them killed…unless they can set aside their differences and learn to trust each other—while ignoring their off-the-charts chemistry.