Lawman with a Cause (The Lawmen of McCall Canyon Book 3) by Delores Fossen: Sheriff Egan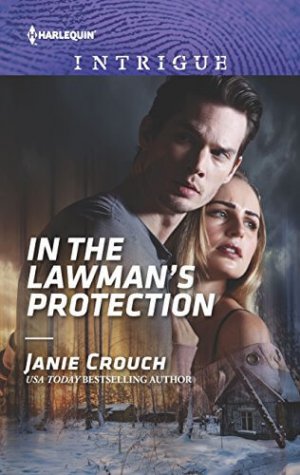 McCall is on his way home when he sees a truck parked on the side of the road with its emergency lights flashing. He recognizes that truck. It belongs to his high school sweetheart, Jordan Gentry, the last person he expects to see by his ranch. She also happens to be the last person he wants to see. She brings back too many very bad memories of the day his fiancee was shot and killed.
Jordan Gentry is sitting on the ground with her back to the front fender of her truck, blood running down her sleeve, when she hears her name called and a light flashes in her eyes. She is holding her gun in one hand and her phone in the other. When she sees who is standing there she accuses Egan of trying to kill her. It looked like to her someone in a blue truck identical to Egan's shot at her as that person passed her on the road. It seems that the people who received donated organs from Egan's dead fiancee are being killed one by one. Jordan is one of those organ recipients. Egan knows he didn't shoot at Jordan so it's time to investigate and keep Jordan safe.
Lawman with a Cause by Delores Fossen is the third book in her Lawmen of McCall Canyon series. The series so far has been filled with lots of action and suspense. This story follows along that line as well. The author has written an inticate plot filled with many interesting characters. Delores Fossen always manages to write lots of fascinating intrigue into her stories. She is one of my favorite romantic sususpense authors.
Book Info:

Publication: January 1st 2019 | Harlequin Intrigue | The Lawmen of McCall Canyon #3
Her life depends on his protection
His heart depends on her survival
Sheriff Egan McCall hasn't forgiven Jordan Gentry for her role in the death of his fiancée. But when Jordan is attacked, Egan comes to her rescue and discovers a serial killer is targeting recipients of his late fiancée's organs. Then Egan's protective instincts—and long-buried feelings—kick in. Wearing a badge means his priority is stopping a murderer and safeguarding a target. If only he could also ignore the sizzling attraction between them…