In No Earls Allowed (The Survivors #2) by Shana Galen, Lady Juliana knows that many women in her position, being the daughter of an Earl, devote some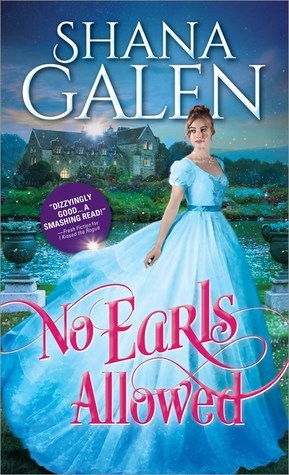 of their time to charity work. But probably not many would take up residence at a local orphanage and do not only administrative tasks, but also lend a hand cooking, cleaning, and even teaching on occasion. And as such, Julia's father, the Earl of St. Maur, is not happy with her new project. She doesn't really care what the Ton thinks. So when her father sends a dashing, rugged man to convince her to return home, she's not necessarily surprised. But Julia *is* shocked when Major Neil Wraxall takes over, turning the young boys at the orphanage into a cohesive unit–something she's not been able to do yet. Between her mighty attraction to Neil, the normal daily antics of her charges, and the threats she's receiving from a local crime lord, Julia is in over her head. But she is determined to prove herself capable to everyone. One way or another.
"As I told you before I don't have a weak spot for orphans, but I do have my–"
"Orders," she said before he could. "Is that all you care about? Orders?"
"No," he said quietly. "I have found at least one more item to care about lately."
And to her complete shock, he reached up and ran a finger down her cheek.
As part of the infamous Draven's Dozen, and being the bastard child of a Marquess, Neil is used to feeling like the odd man out. He still battles his guilt on a daily basis over the men he lost in battle, not feeling like he's worthy of any praise or anything good to happen in his life. When Neil is given a task from his father, he knows it's his duty to follow it through. He goes to the orphanage thinking it will be a quick and easy endeavor–convince the lady to return to her home and leave tending the orphanage to those more well-equipped. But Neil is quite surprised to see that even though the building is falling apart and not safe from the neighboring riff raff, Julia's done a fine job with what little resources she has. It's not long before Neil realizes that he's not making any headway getting her to agree to go home. And he's being pulled into the daily lives of the young chaps, becoming a mentor of sorts, as well as falling a little more under Julia's spell each day. He worries he's not worthy of either the lads' adoration or the love of a highborn lady. But he's not sure he's willing to give up that which has come to mean so much to him, either.
'He was already in too deep here at the orphanage and with her. He could not encourage confidences. He could not allow emotions to whirl about them and spin a web binding them together.'
With a heroine determined to rush headlong into trouble and a hero still recovering from the horrors of the battlefield, No Earls Allowed was an exciting romp through Regency era London with all the witty dialogue and smart writing I've come to expect from Shana Galen.
'She could only think of one way to fill the ragged hole in her heart, and that was to take these little orphan boys under her wing and do what no one else in the world seemed to want to do–love them.'
Shana Galen is on a roll with her newest series, The Survivors. Each book can be read as a standalone easily enough but I think historical romance fans will like the premise behind it so much that they'll want to read them all. This particular story had some tough bits to get through. Neil relived his time commanding troops in his nightmares, so the battle scenes he remembered were raw and a bit gory. The backstories of the boys in the orphanage will likely also be difficult for some readers. They certainly didn't have easy lives before–or even sometimes during–being at the orphanage. Although everything Galen threw at us felt like situations that likely happened during the Regency period so there was a realistic feel to it.
Julia and Neil proved to be quite the fiery couple. They were both very strong-willed and fought for what they believed to be right and true. So this almost had an enemies-to-lovers feel to it, with their quick bantering and with them being being at odds quite often. I think some readers may not like that Neil came into the orphanage ready to take control. He still very much acted the part of being a leader of men, much to Julia's dismay and outrage. I loved watching them dance around each other, though. Their attraction was obvious to everyone, but they both had chips on their shoulders to deal with before they could fully commit to each other.
Neil thought of himself as a failure, not realizing that bringing home any of his soldiers was a reason to celebrate, given that they were considered a suicide troop. He only focused on those he lost. Which to me only showed his loyalty and kindheartedness. Julia saw that right away in Neil, but then again she was quite perceptive about people. Kind and generous yet having a backbone of steel, I thought Julia made a great heroine. She had lost a couple of people very dear to her in recent years so she turned her attention to helping the boys at the orphanage and truly created a bond with them. I had a lot of fun getting to know the youngsters and seeing their interactions with Neil and Julia. Who, by the way, ended up making a terrific team and were able to keep the boys (mostly) in line.
No Earls Allowed had just enough action, laughter, and poignant moments to make it a well-rounded romance. You simply can't go wrong picking up one of Shana Galen's charming tales.

Book Info:
Publication: Published March 6th 2018 | 

Sourcebooks Casablanca | The Survivors #2
It is a truth universally acknowledged
that a lady can do anything a man can do:
backwards and in high-heeled dancing slippers.
Lady Juliana, daughter of the Earl of St. Maur, needs all the help she can get. She's running a ramshackle orphanage, London's worst slumlord has illicit designs on her, and her father has suddenly become determined to marry her off.
Enter Major Neil Wraxall, bastard son of the Marquess of Kensington, sent to assist Lady Juliana in any way he can. Lucky for her, he's handy with repairs, knows how to keep her and the orphans safe, and is a natural leader of men.
Unfortunately for both of them, the scandal that ensues from their mutual attraction is going to lead them a merry dance…