In Castiglione's Pregnant Princess (Vows for Billionaires #2) by Lynne Graham, when Prince Vitale Castiglione makes a bet with his brother, he finds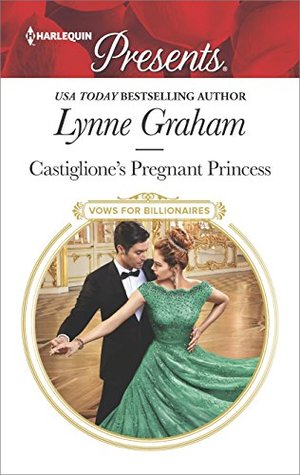 himself taking the most ordinary woman in his life to his mother's ball; a royal ball where's his mother expects him to pick his future wife. However, when he discovers Jazmine is pregnant with twins, Vitale will do anything to make sure their future is secure. Yet, will he be able to convince Jazmine to take a chance on him, or will she walk away from the man she's falling in love with?
"I'm a banker. Saving money and making a profit comes naturally," Vitale said drily. "And by the way, my mother is not remaking me in her image."
Charles vented a roughened laugh. "It may be graveyard humour but I wouldn't be a bit surprised if you find yourself engaged by the end of that ball next month! Sofia is a hell of a wheeler dealer. You should've refused to attend."
"I may still do that. I'm no pushover," his son stated coldly. "So you want me to stage a rescue mission in your name?"
Having really enjoyed the first book of this series, I couldn't wait to read more about the three brothers that share more than a father in common. Really, they're ruthless and know how to get what they want. The way this story started had me loving the relationship between the brothers, as they're competitive. However, it was from the moment the hero and heroine came face-to-face for the first time that had me really liking this story, as Jazmine once had a crush on Vitale and it's hard for her to be around him. Yet, she needs what he's offering and there's nothing else she can do but to let him have his say.
As for the dialogue, it was intense due to the main characters back stories and everything this couple go through on their journey to happy ever after, especially the confrontation between this couple and the hero's mom. Since mommy dearest is an absolute witch that doesn't care about her son and only cares about what a good marriage can do for their country. Moreover, I liked how confident the hero was, his determination to win the heroine over, and I also enjoyed that he finally stood up to his mother; something that needed to happen to show that his mother can't always get what she wants. While the heroine, she's resilient and courageous when it comes to helping the hero win the bet he's made and also facing the hero's mother. Will the heroine speak her mind, especially since Vitale's mother is so rude to her? I also liked how loyal the heroine is to her family, especially with her mother going through such a rough time.
Jazz froze. "When you sent me away I felt like I was an annoying distraction to you, just one more burden."
Vitale stilled by the door that le out to the terrace, his lean, darkly handsome features rigid. "You are not and have never been a burden. In fact you are the only thing in my life that has ever given me pure pleasure…"=
Overall, Ms. Graham has delivered a really good read in this book where the chemistry between this couple was strong; the romance was delightful and convincing; and the ending had me sympathizing with the hero because of the scandal that hits the royal family, but had me loving how determined the hero was to prove to the heroine that he wants forever with her. However, it was the epilogue that wrapped this story perfectly, as readers discover how far this couple have come in their relationship and see that love, family and happiness are worth everything to Vitale; a man that wasn't interested in forever after. I would recommend Castiglione's Pregnant Princess by Lynne Graham, if you enjoy the fake relationship trope, the marriage of convenience trope, the surprise pregnancy trope or books by authors Pippa Roscoe, Kelly Hunter, Dani Collins and Abby Green.

Book Info:

Publication: March 20th, 2018 | Harlequin Presents | Vows for Billionaires #2
Expecting royal twins can only mean one thing…
She must wear the Castiglione crown!
Royal responsibility has been drummed into Prince Vitale since childhood—but his hunger for Jazmine crushes all sense of restraint. Her unexpected pregnancy revelation leaves Vitale no choice—he knows what he must do. A temporary marriage will legitimize their twins, but when the fire between them fails to burn out, he has to wonder…could Jazz be his permanent princess?