In The Best Friend Bargain (Kisses in the Sand #3) by Robin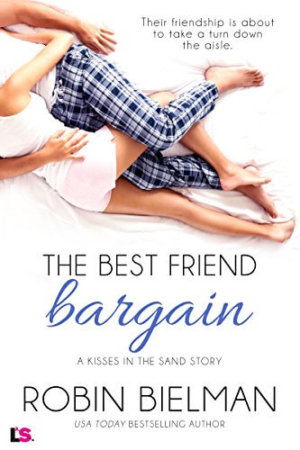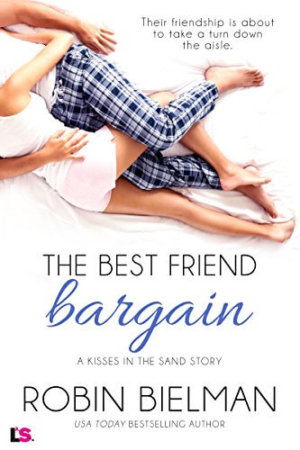 Bielman, Olivia and Danny are best friends, but asking him to do something that he's opposed to, is the hardest thing she's ever had to do. However, instead of asking Danny the big favor, Olivia blabs that she and Danny are getting married and that she's pregnant. Will Danny go along with her plan when he's a man that never planned to get married?
"I think it's okay to take some time to get your bearings."
"Have I mentioned how smart you are?"
"It's widely known I'm not all good looks." He grinned, looking quite pleased with himself. She cracked up. Conceit had never been one of Danny's traits.
I've read a few books by Ms. Bielman and have enjoyed them immensely, and this third book of her Kisses in the Sand series charmed me from start to finish with its wonderful characters that faced some tough obstacles on their journey to achieve happy ever after, well-written dialogue and a fast-paced plot that had me enthralled from the moment Olivia comes to Danny for help.
Both the main characters were compelling, and face quite the dilemma because Danny would do anything for Olivia. Yet, he's always been adamant he'd never marry due to his diagnosis. Never would he want to be a burden to those he loves. Olivia is strong, brave and I liked how she and Danny would do anything for each other. They're really close and it's palpable what both have done and what they are willing to do for each other, even if it means making sacrifices that neither thought they'd ever make. Moreover, Olivia herself has to make tough choices between what's right for her and what's right for her child when it comes to the baby's father and what he wants.
While Danny, he's honorable, loyal and the sort of best friend any woman would want in a man. Really, there is so much to like about this hero. He has a tough decision to make – allow Olivia to face with him what he knows is coming for his future, of that he'll eventually lose one of his five senses or let her go? What if she can't handle what they both know will happen? There was so much emotion behind the narrative and dialogue from the hero's side that I couldn't help get a little emotional. However, there were some light-hearted moments that I absolutely loved between Olivia and Danny, especially when it comes to their banter about their costumes for the town costume contest.
His gaze dropped to her yolks. "Have I mentioned how eggcellent you look today?"
Liv rolled her eyes, but couldn't stop the delight spreading across her face. "Aw, you're bacon my heart melt with those sweet words."
Danny frowned at her use of the word 'sweet', but his eyes sparkled with mischief that kept her on the edge of her seat. "Does that mean you wanna strip?"
Overall, Ms. Bielman has again penned a worthwhile read where the sex scenes were hot, and proved how right Danny and Olivia are for each other. The way this story ended with the epilogue had me cheering for this couple because Danny needed Olivia in his life, even if he wanted to spare her from his diagnosis. Besides, the news she gives him made everything sweeter; made him see that he shouldn't allow his diagnosis to hold him back from being happy. I would recommend The Best Friend Bargain, if you enjoy the best friend to lovers' trope or the fake relationship trope.

Book Info:

Publication: August 8th, 2016 | Entangled Publishing | Kisses in the Sand #3
Olivia Lincoln has a plan guaranteed to get her life back on track. A plan that involves her best friend, Danny. And he's on board, too…until she blurts out that they're engaged and expecting a baby, and the news spreads like wildfire. The problem? Danny doesn't do marriage. Or family. And everyone knows it, including Olivia. As irritated as he might be, protecting Olivia is what Danny does. But put best friends under one roof, add house rules begging to be broken, accidental nakedness, and pancakes in bed, and what started as a marriage between friends threatens to turn into the real deal…which would ruin everything.