Nobody's Princess by Sarah Hegger: I have read the entire Willow Park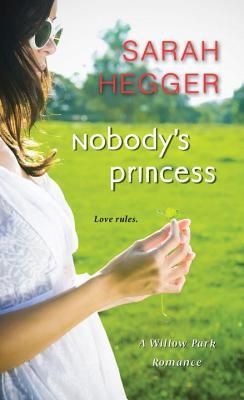 Series, I have loved each of the books in this series, and I think of all of them, Nobody's Princess is my favorite of all time. This book has drama, this book has humor, this book has sadness, fast cars, snarky teens and a HEA that is just beautiful. This is the story of Tiffany and Thomas.
Tiffany Desjardins is a pampers princess. At least that is the way that her father and her boyfriend/soon to be fiancee, Ryan, treat her. But before she can get engaged to "the man of her dreams" she had to get the divorce that he and her father think that she already has. The universe is stacking the deck against her when her former mother in law drops her 17 year old brother in law, Dakota, on her doorstep and flies off for a face lift. Things only get worse when hot, handsome and very stalkerish Thomas Hunter shows up looking for her ex and will stop at nothing to get her to lead him too Luke.
Thomas Hunter needs to find Luke in the worst way. Luke has stolen something very important that can make or break Thomas' newly formed business. He will stop at nothing to find Luke and get the information back. So how better to find him than "road trip' it across the country following Tiffany, Dakota and the hot little sports car that she is planning to use as leverage to get Luke to agree to a divorce.
When a blown radiator forces Tiffany and Thomas to join forces to hunt for Luke, the sparks fly and they both begin to see things in each other, as they peel back the layers, that make them realized that the Princess and the man with itchy feet might just be the perfect pair.
What I really loved about Tiffany is that she thinks that she is not smart. She has been told all her life, by her father, that she does not need brains when she has looks and is the perfect princess package. But in her heart of hearts, she loves numbers. Keeps books and books and books of facts, figures, and statistics that she works out and figures out on her own, afraid to ask anyone or let anyone know, because they will look at her like she is stupid. Except for Thomas. He takes the time to explain things to her. Sees her in a way that nobody ever has before, and that just made me love these two even more.
"You think that all you are is this, but you are so much more than that. You fixed Luke's car because it was the right thing to do. Your life was running off track, so you jumped right in and put it right." How did she not get this about herself? She let her father and that dickhead, Ryan, convince her she was worth shit. "You didn't want to do all of this and see Luke again, but you did. Dakota is in such deep shit, it would take a backhoe to dig him out, and you're in that hole with him. He takes your head off, but you stick with him. On your own, you work out shit that takes the rest of us years to study to get a handle on. How can you not see that?"
In the end, the HEA for Thomas and Tiffany is everything that is should be. Two people that support each other, love each other and each helping the other to reach for their dreams. I would highly recommend this series to anyone that believes that dreams really do come true, when you find the right one.
Book Info:

Publication: February 23rd 2016 | Zebra | Willow Park Series #3
Sarah Hegger is back with another delightful Willow Park Romance, but this time the road to love might be a little bumpy…
Tiffany Desjardins has a plan. Well, she had a plan, until her past and all its complications came back to haunt her. Her not-quite-ex-husband, Luke, is missing, and suddenly everyone needs to find him—including Tiffany, if she wants to marry the true man of her dreams. Then there's Thomas Hunter, Luke's brawny friend, who won't take "no road trip" for an answer—and who won't stop showing up in her daydreams…
Thomas couldn't care less about Luke's personal life, but he needs to find him if he's going to make his fledgling minerals and metals company a reality. And if that means following Tiffany, who's taken off in Luke's rare Lamborghini Miura, he's more than willing—especially if there might be a chance to negotiate some of Tiffany's lovely curves. As Tiffany and Thomas speed along without a map, the only destination that seems certain is being together…