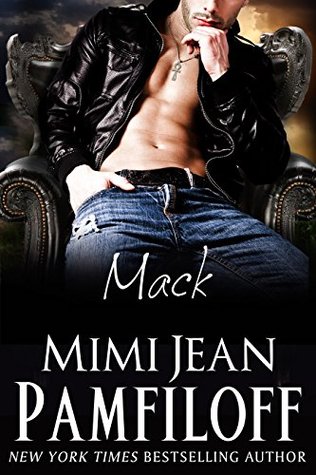 In Mack (The King Trilogy #4) by Mimi Jean Pamfiloff, Mack's tumultuous and complicated past has a way of finding him over and over again. And now that he's located the one woman he's ever truly loved, the one person who can end his suffering, he hopes this will be their final time playing this deadly game. With his twin brother and other evil beings also searching for him, Mack prays he has time to accomplish his goal before the others try to put a stop to it.
'How was it possible to want to protect someone and care for them, ache for them and need them, yet feel compelled to harm them and want them to kill you, too?'
Doctor Theodora 'Teddi' Valentine started her new job as director of a local mental health facility expecting to remain as emotionless as always. But one look into Mack's deep blue eyes and her world shifted completely. She's unsure how to handle the barrage of feelings that flood her now. Nor is she sure why the enigmatic stranger draws her in like no other. Teddi only knows that they have a bond that she must protect at all costs, even as Mack asks her to unthinkably end his life.
'I'd lived a life that was colorless and absent of love. Now, I loved so much that I could hardly breathe. Yes, I barely knew this man. But my heart and soul knew him like the sound of my own voice.'
Complex doesn't even begin to describe the plot or the characters in Mack. I was pretty much blown away with the range of emotions portrayed as well as how swept up I became with the story.
This standalone novel had me completely captivated with Mack and Teddi's plight from page one. But if you've read any of the other books in the King Trilogy, you'll probably have a good grasp on the background of twins King and Mack. But this raised the stakes even higher, giving us a glimpse into the, at times, horrific choices they have had to make in the name of brotherhood and love over the years.
Boy, this is a tough one to review without giving away too much. And there's so much I want to discuss! But what I can say is that we have a cast of characters who have all been battling each other in one form or fashion for centuries. It was honestly heartbreaking what they'd gone through once their stories were laid out and it was explained how their lives had intertwined. What I did get a sense of, though, was that Mack and Teddi–as well as King and Mia–were destined to be together. Fortunately for us (but unfortunately for them) their saga will continue with another upcoming book as they all strive to find closure along with a happy ending worthy of all their sacrifices.
Mack was a Paranormal story that truly had it all: dark alpha men, intelligent and gifted women, family disputes, duplicitous acquaintances, and tons of crazy chemistry between our protagonists. I can't wait to see where the next installment takes us.
Book Info:

Published February 15th 2016 | by P&S, Inc. – Mimi Boutique | The King Trilogy #4
From New York Times Bestseller Mimi Jean Pamfiloff, Comes the New Standalone Story of Mack from the King Trilogy.
"THEY THINK KING IS EVIL, BUT HE'S GOT NOTHING ON ME." -Mack
MY NAME IS MACK. And if I play my cards right, I will soon be dead. Permanently. Not even my powerful twin brother will be able to resurrect me. A good thing. Because a man like me has no business living. Not when I have killed. Not when I have betrayed everyone I have ever cared for. Not when I know I'm destined to do it again.
This is why I have come looking for her–the only one capable of ending me once and for all. But will she think I'm just another insane patient? Or will she believe the truth? I am thousands of years old, my heart too dark to be salvaged. And my name isn't really Mack.
~~~
MY NAME IS TEDDI, short for Theodora. My entire life has been a canvas of grays, whites, and black. I can't feel, I can't understand joy, I've never truly lived. Until now. His name is Mack, and though he believes he's cursed, my degree in psychology tells me otherwise. Besides, someone who's capable of bringing so much light into my life can't be anything but good.
But I can save him. If he'll let me.