Northern Rebel by Jennifer Labrecque:  We start off meeting Delphi (I love that name). She's a nurse in a doctor's office and feels very lucky. She loves her job, enjoys her co-workers and really respects DeWitt, her boss, the doctor who owns the office. That is, until he comes on to her. When she turns him down, he gets her blackballed from the entire medical community in Atlanta! Having not a lot of options, she accepts her college friend's offer of a temporary nursing job in Good Riddance,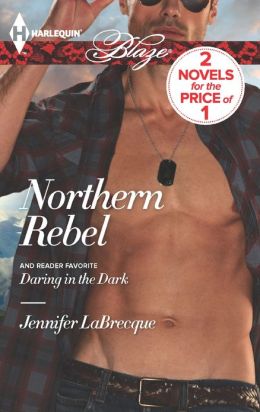 Alaska. Delphi figures she can go to Alaska, lick her wounds and can return to Atlanta when this whole thing blows over. I really liked Delphi from the get-go. I think that a lot of people can identify with having a skeevy boss so having Delphi have to deal with that was a genius move. Plus, Delphi handled it with more class and dignity than I would have been able to manage. Then, when Delphi just wanted to be left alone so she could wallow in her misery, I could totally understand that. After you've been burned so badly by someone you trust, you just don't want to trust anyone ever again. Delphi really personified that feeling and brought it to life. But of course, her plans to be miserable and alone are immediately put to the test…
Lars marches right on in to Delphi's life and proceeds to make it hard for her to stick to her plans! Lars is on leave from the military where he's a bomb disposal tech. He's come to Alaska for his brother's wedding and he meets Delphi on the entirely-too-small-plane to Good Riddance. He sees her prickly demeanor but he can't help poking at her. He might seem really annoying and Delphi is definitely not impressed but you can't help but like him. Lars is such a great counterbalance for Delphi. She's hurting and mistrustful and he's just this gorgeous, over the top charming guy who's determined to bring her out of her shell.
Together, Delphi and Lars are equal parts hilarious and hot! On the way to Good Riddance, Lars keeps bugging Delphi for a date and she acts like she doesn't want to go. But of course, she kind of does. That's not to say that Delphi's mistrust is an act – it isn't. But she can't help but be charmed by this devilishly handsome man who keeps getting her to smile when she doesn't want to smile. Once Lars starts getting past Delphi's resistance, that's when the heat comes in to play. Their first date is at this gorgeous hot springs at dusk. Delphi sees these dragonflies swooping and diving on the springs and it just sounds so gorgeous. I won't get into what happens after that but when I say Lars and Delphi are hot, I'm NOT talking about the hot springs!! I don't have any complaints about this book. The only thing that I think someone may not like is how Lars uses military terms constantly. Going out on a date is a mission. The person choosing where to go is the mission commander. Delphi calls Lars "Sergeant" or "Marine". I'll admit that there was enough of it that I noticed it but it didn't bother me. In fact, I thought it was pretty cute, especially when Delphi starts using the same terminology. But I can see how it might grate on someone's nerves.
I liked Northern Rebel more than Daring in the Dark but they were both entertaining, hot novels. I would highly recommend this "2 for 1" book to anyone who is a fan of contemporary romance novels!
Book Info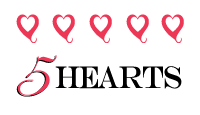 Publication Date: April 23, 2013 | Series: Harlequin Blaze (Book 748)
2 Complete Novels for 1 Price!Northern Rebel: A new sizzling Uniformly Hot story
Locate the explosive. Defuse or safely detonate it. It's a job that takes cojones, and one wrong move could land marine demolitions expert Lars Reinhardt in the hurt locker…or in the morgue. But it takes a leave in Good Riddance, Alaska, for Lars to meet his greatest—and prickliest—challenge yet. And he'll need more than charm to disarm this stunning nurse….
Delphi Reynolds has declared that emotionally unavailable dudes are the new no-no. And while she's tempted to let Lars light her libido's fuse, he's off-limits—no matter how sexy, charming or freakin' gorgeous he is! But Lars lives for a challenge, and he wants Delphi for the week. And once they ignite, it'll set off a fiery chain reaction that could blow them both away….
Reader favorite Daring in the Dark: What's a guy to do when he's in love with his best friend's girl? Not much…until a blackout allows him—and his girl—to see the light….