In Tempting Cameron by Karen Erickson Chloe is a teacer in Lone Pine Lake, her home town. The only time she left was for college, then returned for a job and to be with her mother. She is happy in Lone Pines Lake, although at times she describes it as being happy 'enough'. As happy as she is, she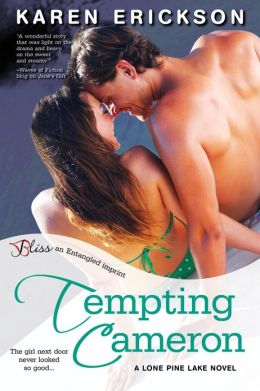 feels she's missing something in life. This really hits home for her when she's at her friend Jane's wedding and sees Janes brother Cameron. Chloe has always been good friends with Jane and Jane's brother Mac, but it's Cameron who she's secretly always lusted over.
"His voice, his face, his tall, rangy body had haunted her dreams for years. Years. Like since she was too young to even think such wicked thoughts."
Cameron is a freelance photographer who couldn't wait to leave Lone Pine Lake, has travelled around and spent some time as a war photographer in Afganistan. He believes he has nothing to offer anyone in a relationship, but at Jane's wedding, he is drawn to Chloe like never before. Cameron usually tried to ignore Chloe, she was his little sister's annoying friend. At the wedding though, he sees the grown up Chloe and feels a pull to her he never expected to. They both feel it.
Cameron has no intention of staying in Lone Pine Lake for longer than the summer, and Chloe has no intention of moving away. Although Chloe is unlike Cameron's 'usual' type of woman, he can't help himself from wanting to be around her. Chloe has dreamed of Cameron wanting her forever, and even though she knows he'll leave and she might lose her heart, she wants him to give her a summer adventure. Before the adventure begins though, they have an arguement one night…Cam's walls come up and he says some mean things to Chloe. When Chloe is in a car accident after their arguement, Cameron blames himself and is riddled with guilt. Cameron tells Chloe things he's never told anyone.
"He always felt like he was surviving, not living…Spending time with Chloe made him feel like he was actually living again."
Cameron keeps his secrets of the night of the accident, now he is too scared to tell her. Secrets have a way of coming out though, and Chloe is very hurt when she finds out the hurtful things Cam said to her the night of the accident. Cameron also finds out that Chloe has let some of his secret slip to his sister Jane, now the whole family knows. Cam feels betrayed when he finds out and he is intent on running away leaving Lone Pine Lake far behind again.
Cameron is going to have to decide what is important to him and if Chloe is one of those things. Can he stop being afraid of failure and disappointing people to take a chance with Chloe? Cameron will need to be open and honest with Chloe, and be able to trust her again. Chloe will need to find a way to move past Cameron's hurtful words. Most of all, is it worth it to Cameron to take the risk and stay in Lone Pine Lake?
I really, really liked Chloe! She was fun, open and completely honest about her feelings. She is also a strong woman who knows what she wants in her life, one of them being Cameron if she can have him! Cameron is much more closed off, he keeps his secrets and feelings inside himself and trust few people. It wasn't clear to me in Tempting Cameron why he was this way, and why he was so determined to leave Lone Pine Lake behind him. His family was close and loving, he had no major traumatic incidents when he lived there that we were told of, so this part of Cameron remained a big mystery to me! He wants to shut everyone out, but why? I can see where some of his emotional scars as an adult come from, but I still didn't understand his secrecy.
Karen Erickson gives us a romance that's accurate to the title…Chloe was a big temptation for Cameron! Tempting Cameron flowed really well, once I started reading it I wanted to stay there to see what was next! The secondary characters in the book were pretty intriguing too…I would love to know Jane's story and follow up with Mac and Ali! They were a great addition to Tempting Cameron and having them and others in there really enhanced the story line…leaving us curious about them and at the same time anxious to see where Chloe and Cameron would end up!
Tempting Cameron is a great romance, a really smooth read that I'd recommend to any romance reader!
Book Info
Publisher: Entangled: Bliss (April 8, 2013)
The girl next door never looked so good…
For Cameron McKenzie, Chloe Dawson has always just been his younger sister Jane's best friend—a pesky annoyance who followed him around and acted like he hung the moon. It isn't until Jane's wedding to her firefighter beau Chris that Chloe reappears in his life…and she isn't pesky or annoying anymore. In fact, the beautiful Chloe tempts him beyond reason. But Cam knows he's damaged goods—not nearly good enough for Lone Pine Lake's resident good girl.
Chloe's always dreamed of a future with the dark, brooding Cam, and after they share an explosive kiss, she wonders if her dream could be coming true. Cam's never stuck around his hometown for long, though, so she makes him an offer: one sweet summer romance with no strings attached. This good girl's ready for an adventure…one that just might end up lasting a lifetime.