In Project: Runaway Heiress by Heidi Betts, fashion designer Lily Zaccaro has just found out that her designs for her fall fashion have been stolen. Now she has gone undercover at Ashdown Abbey to try and find out who the thief is.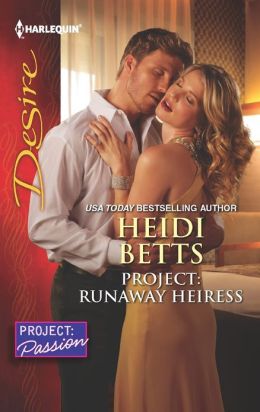 Nigel Statham, CEO of Ashdown Abbey, needs to be find a PA that is not an actress. Being based in LA, does not help him at all, all his previous PA's quit as soon as they get a hand commercial or something else. It takes him more time to train PA's than the actual time he spends working on making the LA branch successful.
Lillian his new PA, seems perfect on paper, now he needs to see how good of a PA she turns out to be. He asks her to a business dinner to interview a designer, and on pure impulse he asks her what she thought of the candidate. To his surprise she voices his very thought of the interview.
Finding the thief will not be easy for Lily, there are many employees at Ashdown Abbey, and to make things worst her older sister is making noise trying to find her. But she will have to try and keep a lid on her attraction to her boss.
Not only is the attraction mutual, so is the denial, but their chemistry will not be denied for long. They will spend many happy days and night together, but once Lily finds the thief she will have to return to her life in New York.
Lily and Nigel will have many obstacles on their way to happiness, not only the distance between their companies, but also accept that the lies told in the past were not meant to hurt them, and that their love was not part of the lie.
Book Info
Publication Date: April 2, 2013 | Series: Harlequin Desire (Book 2225)
Undercover Fashionista
When her designs keep showing up on a rival's runway, heiress and fashion designer Lily Zaccaro vows to catch the thief. She comes up with the perfect plan—run off to L.A. and go undercover as personal assistant to the other label's CEO, Nigel Statham, aka the sexiest Brit alive.
As long work days turn into sizzling nights, Lily struggles to stay focused on her secret mission. She desperately hopes that Nigel is innocent because their relationship is anything but! In the face of so much deception, pretty soon their newfound love is hanging on by a thread….