In Not Quite Crazy (Not Quite #6) by Catherine Bybee, Rachel Price knew that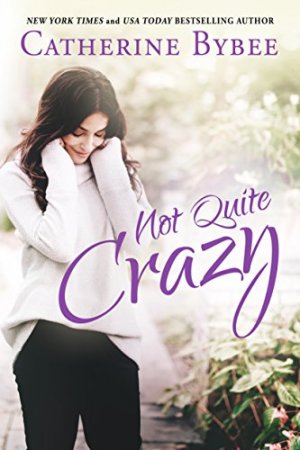 moving herself and her newly acquired roommate, fifteen-year-old Owen, from California to work in NYC would be an adjustment. And driving on snowy roads is not something she has much experience with. But somehow it's the guy who tries to foolishly pass her who ends up in the ditch on her snowy commute home to Connecticut one evening. Rachel helps out the charming, handsome driver only to find herself agreeing to see him again. Known to her only as Jason, she's mortified when she comes face to face with him at Fairchild Charters during a marketing presentation and realizes Stranded Car Guy is actually CEO Jason Fairchild. And even though a boss-employee relationship is a bad idea, Jason still pursues her, which leaves Rachel to wonder if she should follow her heart or break things off before they get even more complicated.
"I'm just a guy, falling for a girl."
"Jason." How could he say that?
"And you're just a girl, falling for a guy."
"You make it sound so easy."
"It doesn't have to be complicated."
But it was, and they both knew it.
Since taking over the family business after his beloved parents died, Jason has basically done nothing but work. There are days where he feels weight of responsibility on his shoulders and knows it would be nice to have a woman to come home to. But no one has ever tempted him. Meeting Rachel changes everything. Not only is she a caring woman–who is also gorgeous–but she's smart and someone who would keep Jason on his toes. He treasures the moments he gets to spend with Rachel and Owen, even after he finds out he's her boss. The feelings he has for her isn't something that happens to a guy every day. He's smart enough to know that he needs to take it slow, to let things progress on their own. But as both of their lives implode with issues at Fairfield Charters and in Rachel's life, the strength of their newfound relationship will be put to the test. And Jason hopes it will survive intact, with them ready to begin their lives together.
'For the first time in forever, a woman sparked his interest beyond the physical, and she worked for him… While his head swam with the negativity of an office romance, his heart–and maybe another organ–suggested he continue the path he'd started.'
Not Quite Crazy–the final book in Catherine Bybee's popular Not Quite series–was everything I love about her writing: heartfelt emotions, steamy passion, family drama, and most of all, characters so real that you feel an instant connection with them.
"I'm in a helicopter," she whispered to herself…
Then he turned the helicopter on.
He leaned over and lowered a microphone, and the sound of his voice was directly in her ear. "Just breathe."
"This isn't…this is crazy, Jason."
"Not quite crazy. Not for me, anyway."
While I'm not ready for this series to end yet (sniff sniff) it truly couldn't have gone out on a better note. Lots of time with the Fairchild family, getting caught up on what was going on as well as meeting new characters, made this a super quick, highly enjoyable read. There was a multitude of emotions to get through as we learned about Rachel and Owen's situation–which brought me to tears more than once. And there was the fun and flirty romance happening between boss and employee, Jason and Rachel. Loved them together! Bybee did a fantastic job building up the attraction between them. And their texts back and forth? So much fun to read. It was oh so satisfying watching them fall in love.
Now, Rachel and Jason's journey to their HEA was a rocky one, fraught with issues that would knock most of us to our knees. I do love that Bybee didn't hold back. She put her characters through their paces and made them *earn* that fairytale ending. (lol) But it was done in a realistic manner with everyday problems that I think readers will easily relate to. There was a lot to like about Jason and Rachel but I think watching them become a team when things went wrong in their lives is what really made me cheer them on. She was a great heroine and a solid role model to young Owen. I adored how she took care of him and allowed him to be his own person but kept him on the straight and narrow. Jason was the perfect hero. Smart, successful, but still down to earth and family oriented, he gave Owen a shining example of what a man should act like. I thought Rachel, Owen and Jason were a formidable team when they set their mind to something, which came in handy in the last third of the book during a series of events that kept me glued to the pages.
What an epic adventure Not Quite Crazy turned out to be! Equal parts heartrending and heartwarming, this absolutely lovely story filled with love, family and friendship will be sure to resonate with readers.
Book Info:

Publication: Published: March 6th 2018 | Montlake Romance | Not Quite #6
From New York Times bestselling author Catherine Bybee comes the sixth novel in the warm and witty Not Quite series.
No one drives in New York City. Everyone knows that, including California transplant Rachel Price. But that doesn't stop her from driving into the city. From Connecticut. Every single morning. Rain or shine…or snow.
When she runs the charismatic and good-looking Jason Fairchild off the road, their immediate spark is met with bad timing. There is also one tiny little detail: Jason is her boss. And a woman as intelligent and dedicated to her career as Rachel knows not to date her boss.
As CEO of a private jet company, Jason Fairchild is more used to flying than driving. But if he hadn't chosen to drive home one night, he wouldn't have met the slowest—and most irresistible—driver in the entire metro area. Jason has never had time for love. Or dating. Or really anything that doesn't involve work. But when he finds out that Rachel is the newest superstar in his marketing department, he can't help wondering if fate has other plans…