On the Brink of Passion by Tamsen Parker: Ever since Jubilee's husband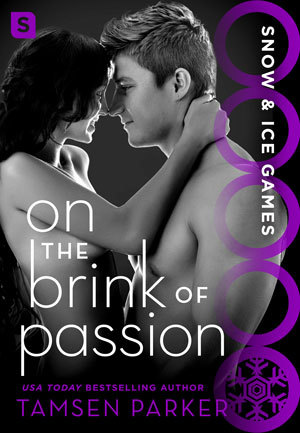 died four years ago, just months after they won gold in pairs ice skating, she has been locked up tight and unable to let anyone in. Although she's had a new partner for the past two years, Beckett, and is at the Snow & Ice Games again, she and Beckett remain merely cordial.
But when they're forced to share a room, Jubilee offers herself up to Beckett in order to maintain her control and not allow him to mess up her order by bringing one night stands around. While their affair starts off with a rough start, soon enough Jubilee starts opening to Beckett.
Beckett never thought he could be attracted to the cold Jubilee, but soon enough he's falling hard. He just has to prove to her it's okay to fall in love again.
I don't think I liked anything about this romance. Not only does the premise just not make enough sense, but both hero and heroine were awful. Beckett was portrayed as an idiot – lovable, but I find it hard to enjoy him when Jubilee complains about his stupidity. And Jubilee was just cold and utterly unlikable. I wanted to be at least sympathetic, but I couldn't.
The sex, situation, too, made me extraordinarily uncomfortable. There were only two sex scenes, and both were in the beginning when it was awkward and Jubilee forced herself to essentially be a sex doll. I never even got a scene of happily and well-enjoyed consensual sex. They only told me it eventually became better – but I never really got the passionate sparks sense.
Overall, I just didn't see these two fall in love. It was far more a story about ice skating and them as partners on the ice – not in the heart. I've liked other romances from this author, so I was really hoping for a great enemies- to – lovers, but it just didn't deliver.
Book Info:

Publication: March 6, 2018 | Swerve | Snow & Ice Games #5
Welcome to the Snow and Ice Games where competition is not the only thing that is heating up! The fifth book in bestselling Tamsen Parker's romance series concludes with a pairs figure skating couple sharing the ice… and close quarters.
At the last Snow and Ice Games, Jubilee Buford and her husband and partner Stephen Wallace were on top of the pairs figure skating world. The newlyweds won gold and their future looked bright. But just months after she thought her world couldn't get any more perfect, Jubilee lost everything. After a scrapped attempt at a solo career, her coach found her a new partner and new possibilities in Beckett Hughes.
Beckett's had a hard time finding a partner to compete with. Someone who's as aggressive as he is, someone who's given up as much of their life as he has for success. He finally found a fit with Jubilee two years ago. She's not much fun to skate with, but Beckett doesn't need fun; he needs precision and effort and there Jubilee delivers.
When a housing mix-up in the Snow and Ice village forces them to room with each other, they're suddenly compelled to recognize each other's human side. And as Jubilee and Beckett start to see each other as people instead of robots on skates, they discover that they've got chemistry between the sheets as well as on the ice. But the flames between them in the bedroom might melt any chance they have at medaling, and that outcome is not acceptable to either one, or the country that's counting on them to bring home the gold and the glory.