Rekindled Dreams by Linda Carroll-Bradd: When I read the book blurb belonging to Rekindled Dreams by Linda Carroll-Bradd, I thought the novel would fall into the marriage of convenience category, which is one of my favorites and why I wanted to read the book in the first place. After being over fifty percent in, I was still waiting for the shenanigans of the main two characters to come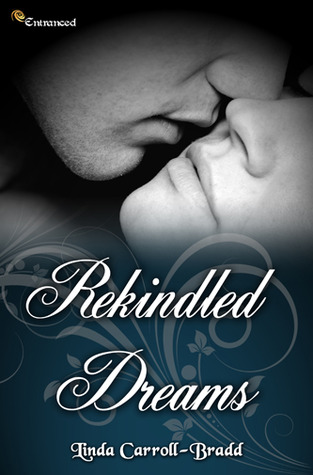 to an end and evolve into the relationship I wanted to read about. The phony romance is a just blip on the screen in comparison to the wackiness of the rest of the plot.
Los Angeles museum curator Vena Fenton, is up for a promotion and in order to get it, she has to find a way to attract more customers into the museum. So she decides to return to the hometown she grew up in, Dry Creek, Montana, in hopes of getting her creative juices flowing. Vena ends up staying at the historic inn that her childhood friend's brother is presently refurbishing.
Finnian Quaid is every woman's fantasy. He is educated, sexy, hot and good-looking. In fact, Vena always secretly liked him, from the time she was old enough to walk. Finnian is seriously thinking about running for a government position and in order to do so, has to appear more settled in his personal life to the outside world. Thus, when Vena pops back into his life, he asks her to be his temporary fiancé.
Dry Creek is a very small community and Vena's experiences are front page news. After only being in the area a short time, she was spotted carrying a huge cardboard cutout of a man through town, having conversations with herself, wearing peculiar clothes, in addition to getting arrested for talking to a boy about trash cans. Whew, that's a lot to deal with. As luck would have it, Finnian is by her side, risking his political future, to ensure Vena and the women of Dry Creek are treated fairly.
If you are looking for a comical, slightly outlandish read about the antics of a nice woman visiting her home town, give this book a try.
Book Info:

Published October 7th 2013 by Entranced Publishing
When museum curator Vena Fenton returns to her small Montana hometown, she's forced to live under the same roof as Finnian Quaid, the star of more than one teenage fantasy. Finnian is now an environmental lobbyist, making a bid for senate, and is as dreamy as ever.
Finnian needs a more settled image if he wants to get ahead in the polls. In order to do that, he needs a wife. With Vena living under his roof, his problem seems solved. As the romantic sparks fly, there's more at risk than Finnian's political aspirations. Can they keep their eye on the prize, or will their growing love derail them both?