In Not Quite Perfect (Not Quite #5) by Catherine Bybee, Therapist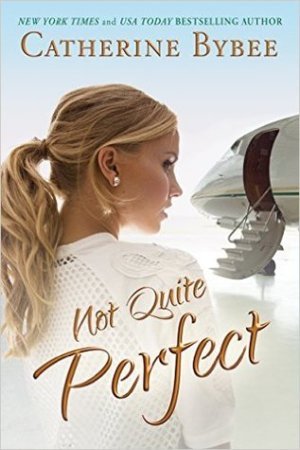 Mary Kildare has tried to ignore the attraction she has for pilot Glen Fairchild since they met a year ago but she's not having any luck. Thankfully they live on different coasts, her the West Coast, him the East Coast. But they have a few friends in common and do meet up on occasion. When Mary finally caves and goes on a date with Glen, she's wowed at how romantic he can be. He's known for being a playboy and has enough money to not worry like most people, but she soon finds out just what a charming and likable guy he is. Under all the sexy attitude, that is. Mary also finds out how far Glen is willing to go to keep her safe when she starts to fear for her life after recent personal threats begin to escalate.
'Glen was turning into the real deal, and Mary wasn't sure if she should just abandon herself to the feeling of belonging to someone, even as a girlfriend, or keep the walls she'd constructed years ago to save her the heartache if it didn't work out.'
Glen knows he's got it good, having a plane at his disposal whenever he wants to visit his friends. And it's come in handy since finally convincing lovely Mary to date him. He might not be used to thinking in terms of a relationship instead of a fling, but she makes it easy to let things progress into something more serious. Glen still loves to tease and flirt with Mary, getting her to blush and bicker back with him. So when someone threatens her, taking the beautiful smile from her face and leaving her feeling uncertain, he steps in to make sure she's okay. But he may have to rethink the long-distance issue when Mary's stalker makes a bold move, leaving Glen worried and feeling unable to help her while he's thousands of miles away.
"I leave you and I can't wait to get back. I look at my phone ten times more a day just hoping I missed the buzz in my pocket to find a text from you. I can't think of tomorrow without you. I love you. It's that simple."
…"You're not alone," she told him. "I kept thinking you were the wrong guy for me, and then you had to go and prove me wrong."
I swear the smile never left my face while I read this high flying romance from Catherine Bybee. She has yet again outdone herself, giving us readers a memorable couple that could banter with the best of them and who stood strong in the face of dangerous threats.
"You like pulling my chain, woman."
"I haven't pulled your chain yet." The words fell out of her mouth so fast she couldn't close it quick enough.
Dakota roared with laughter and Glen's silence on the line made her cringe.
"Who are you and what did you do with that innocent woman I took to dinner last night?" he asked.
I truly did love Mary and Glen together. Lordy, were they fun! They bickered like an old married couple but not in a mean-spirited way. Nope. It was almost like foreplay to them, with all the teasing and antagonizing that made me laugh and blush a bit. I think what struck me about them was that they were both quite different than who they seemed to be on the outside. Mary was a therapist and of course was analytical, but she hid a sexy, sensual side that came out whenever Glen was around. And he may have been a player in the past, but he wasn't mean or smarmy. Glen was a stand-up guy who just hadn't met the right woman. Until Mary. He was also a thoughtful person who was wicked smart and extremely loyal. He made a great book boyfriend.
As with all of Bybee's books, there was a nice sense of friendship and family that played a big part in the storyline. Whether it was Mary's friendship with her neighbors Dakota and Walt (see their story in Not Quite Forever), Mary and Glen becoming friends and then lovers, or Glen's relationship with his brothers Jason and Trent, the bond between the characters was strong and an absolute pleasure to read. I loved that they were all there for one another and that we saw how they'd created their own family, some in the absence of any biological parents or siblings, like in Mary's case with Sister Mary Frances.
There was also a bit of mystery involved as Mary was threatened personally. It was interesting to see how it all worked out and who truly was behind the threats. I thought Mary and Glen both dealt rather well with the issue and it showed how strong they were, apart and together. Mary was one tough cookie. She'd been through so much in her life already. And it was nice that Glen admired that courage and strength, giving her the space to deal with things as she saw fit. For the most part. I mean, he was a take-charge kind of guy who liked to rile her up so of course he had to keep her on her toes a bit. And I loved him more for it!
Don't let the title fool you. Not Quite Perfect was actually the perfect story to sweep you away and take you on a pleasant adventure. So sit back, relax, maybe pour a glass of wine, and let Catherine Bybee entertain you with Glen and Mary's playful East Coast-West Coast romance. You won't regret it for a moment.
Book Info:

Publication: September 20th 2016 | by Montlake Romance | Not Quite #5
New York Times bestselling author Catherine Bybee delivers the fifth heartwarming, flirty novel in the wildly popular Not Quite series.
Mary Kildare knows how to read people. It's both why she makes a great therapist and why she refuses to trust the average bachelor. Staying fiercely independent has been her primary relationship strategy—until wealthy playboy pilot (and commitmentphobe) Glen Fairchild reappears in her life. After a yearlong teasing tug-of-war, Mary and Glen test the waters of attraction, only to find that their physical chemistry runs deeper than flirtation.
At first, a bicoastal romance suits them both—especially since Glen can swoop in and whisk Mary away on one of his company's planes. But no matter how close they get, they're still three thousand miles apart. And when Mary's life is threatened, Glen realizes the one luxury he doesn't have is time. Can he close the distance between them before it's too late?