In In the Barren Ground by Loreth Anne White, Tana is the lone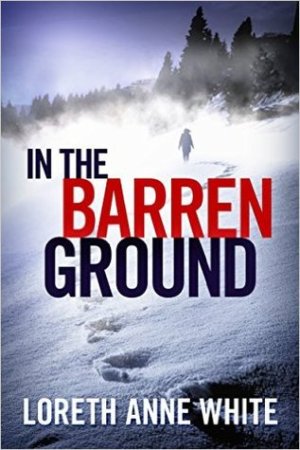 RCMP officer in Twin Rivers. Isolated and far up north, she has come here to start over and look to the future. When a wolf mauling suddenly starts to look like so much more, Tana finds her investigation leading her down a dangerous, dark path with few people to trust. Crash is someone she doesn't want to trust, but she might not have a choice…as much as she doesn't like to admit it, Tana needs help. As more questions, evil, and twists in her investigation emerge, will Tana be able to keep herself and her town safe?
In The Barren Ground was an enthralling, scary story that I couldn't put down! Loreth Anne White had me intrigued from the start, and the chills as the plot progressed made me a little afraid to go outside at night! I loved the fast pace of In The Barren Ground, and as creepy as it was at times it felt like it could be real. As the plot progressed so do the unknowns, the who, and the whys. With meticulous attention to detail and vivid descriptions, it was easy to feel like I was right there with Tana (except that I was probably more scared than she was!).
Tana is a great heroine. She is so brave, independent, strong, and determined. Crash is a strong hero. He is the unknown, and I felt like there was a lot more to him than what met the eye. I liked getting to know these two as their layers were peeled away and there characters fully developed through out In the Barren Ground. The relationship between them is cautious, and the hint of romance is a slow building background to the terrorizing plot! I liked how they were together, and the tension at times was palpable. I felt like Tana and Crash worked well together, their characters really balanced each other well.
Loreth writes smoothly with great flow, and the incredible unease I felt at times led to a very unexpected climax of In the Barren Ground. I really enjoyed this book and would recommend it to any reader who wants to be captivated, thrilled, and a little bit terrified!
Book Info:

Published: August 16th 2016 by Montlake Romance
In the Barrens, a vast wilderness in northern Canada bordering the Arctic Circle, night consumes every hour of the winter. Humans are scarce; ferocious predators roam freely. Locals say spirits do, too.
Rookie cop Tana Larsson doesn't mind the dark and quiet. Five months pregnant and hoping to escape the mistakes of her past, she takes a post in Twin Rivers, population 320. Maybe here she can find peace and community for her child.
But with her superior out of commission, Tana becomes the sole police officer in 17,500 square miles. One bitter night, she gets a call about the fatal wolf mauling of two students, and the only way to reach the remote scene is to enlist the help of the arrogant, irritatingly handsome Cameron "Crash" O'Halloran, a local bush pilot with a shady reputation for smuggling and a past cloaked in shadow.
When the macabre scene they uncover suggests violence much more sinister than animal, Tana must trust Crash if she wants to protect the town—and herself—from the evil that lurks in the frozen dark.
IN THE BARREN GROUND, a dark, atmospheric romance and police procedural with gothic/horror overtones set in a remote fly-in community just south of the arctic circle …