Not the Boss's Baby by Sarah M. Anderson is the first part in The Beaumont Heirs series. This story is about the oldest son, Chadwick Beaumont who has given up a lot for the Beaumont company and is completely dedicated to his job. A lot of people depend on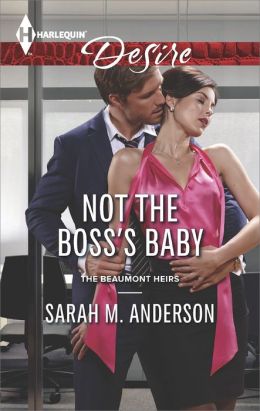 him and therefore he is determined to never follow his father's philandering footsteps. But the presence of his beautiful secretary, Serena Chase is proving to be too much temptation for him to deny anymore when both his professional and personal lives are in shambles.
Serena has worked for Chadwick for the past eight years and she had been in a relationship with her ex-boyfriend for nine. Suddenly her life changes when she becomes pregnant with her ex's baby. With a hostile takeover near, Serena needs to hang on to her job for the baby's welfare.
With no where to turn for support, Chadwick and Serena are drawn closer to comfort each other and their simmering attraction threatens to burn them both.
Not the Boss's Baby by Sarah M. Anderson is a well written romance with a office romance plot. There is a twist in the story as Serena is pregnant with another man's baby and while I am generally not comfortable with this, I think the author manages to write this element quite well.
Chadwick is still married when he starts a relationship with Serena. It is implied that his marriage is over and his estranged wife is causing problems with divorce proceedings. Serena is a sweet heroine who has simple tastes in life. I liked her overall because she had a good outlook towards life. Chadwick is a man overburdened by responsibilities and the excessive demands of his soon to be ex wife. Serena changes him in a good way and makes him question his priorities. There is not much drama going on as the blurb implies and overall the plot is very simple.
There are some steamy scenes in the book but nothing over the top. The chemistry between the characters makes the romance enjoyable and believable.
Overall, Not the Boss's Baby by Sarah M. Anderson is a good book with an enjoyable story.
Book Info:

Published September 2nd 2014 by Harlequin Desire Series #2328 | (The Beaumont Heirs #1)
What the boss wants…
As the oldest son, Chadwick Beaumont has sacrificed everything for the Beaumont's company, but he swore he'd never follow in his father's philandering footsteps. So, for years, he's dutifully kept his distance from the temptation outside his office door–his beautiful secretary Serena Chase.
But now everything has changed. The family business is in jeopardy. His personal life is in shambles. And his sexy assistant is suddenly single–and flirting. Chadwick is tired of doing what's expected. It's time for him to go after what he wants. And what he wants is Serena–even if she's expecting another man's child.