In Nothing Less  (Landon Gibson #2) by Anna Todd, Six months into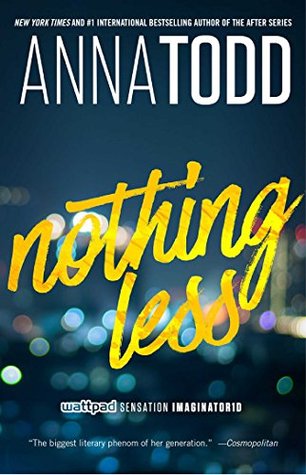 his separation from ex-girlfriend and childhood friend Dakota, Landon Gibson is still learning his way around his Brooklyn neighborhood and his new life. He was hoping that his job at a local coffee house, classes at NYU, and keeping up with the 'are-they-aren't-they' relationship between his friend Tessa and his stepbrother Hardin would keep him occupied. But it's thoughts of an exotically beautiful pastry chef that have been consuming Landon lately.
'Why would the universe allow this to happen? Why would it allow two people who are clearly still stuck in the limbo of our last relationship to become so attached to each other?'
Things become complicated quickly for Landon and his new love interest when her quasi-friendship with Dakota pushes them into a weird and awkward love triangle of sorts. He has so much history with his ex that he's having a tough time figuring out how far he can let Dakota into his life without caving completely. But Landon's new relationship with the lovely chef feels like it could be the real thing. Something lasting and worth treasuring. Does he have the guts–and the right–to try to make a go of it?
'I can be who I want with her. No pressure, no worrying about whether I sound cool or lame, or strong or weak. I don't have to push through the fields of doubt in my mind; I don't have to question every single thing I say or do… With her there's a calm silence like I've never known.'
Nothing Less was the second book in Anna Todd's newest series, Landon Gibson, and it was pretty much just what I was hoping for. With a solid storyline, a likable–make that a lovable–hero, and a sweet HEA, I think this will appease fans nicely.
'Landon is the only person I know who just says what he means; he has no problem talking about wrongs and rights and admitting faults. The world could use more Landons.'
If you've read any of Todd's After series then you probably kind of fell for good guy Landon. I always wanted to know more about him and even though I haven't had the opportunity to read Nothing More (book one in the series) yet, I felt like I really got a good grasp of who Landon was here and what has made him such a fan favorite all along. And so that the reader gets the full experience, I'll try to refrain from giving away too much of what happened and who his perfect woman was exactly.
Told mainly from Landon's POV, with a few passages from his lady love here and there, he really did turn out to be the standup goofy-but-lovable-and-sexy man I thought he was. I liked that he wasn't a pushover. He could stand up for his friends and himself when he needed to. But Landon was that friend that I think we'd all like to have, the one you can turn to anytime and know they'll be there for you. (Cue the Friends theme music… 😉 ) I adored that about him. Although it unfortunately did feel like some of his friends took advantage of his good nature, putting him in a tough spot.
Now this being in the New Adult genre, there was a bit of angst. It actually seemed like it was more from Landon's new girlfriend than him, but it wasn't overdone. I thought there was good chemistry between them and Todd wrote their scenes with the right blend of passion and awkwardness you would expect of a couple in their early to mid-twenties. There was a bit of a love triangle between Landon, Dakota and his new flame that honestly didn't endear me any further to Dakota at all. It might just be me, but it felt like she didn't want him until he was interested in someone new, which was a very selfish and high schoolish thing to do. Just sayin'.
It's so satisfying to see a truly good guy win at love and at life. And that's what Nothing Less was all about. It might have been a bumpy road for Landon (and his fans) to get to his happy future, but it all worked out exceedingly well by the end of this story.
Book Info:
Publication: Published December 6th 2016 |  

Gallery Books | Landon Gibson #2
Book 2 of a new series featuring After worldwide fan-favorite Landon Gibson as he leaves Washington to navigate love and life in New York City. At the end of the After Ever Happy, Landon got married—but readers everywhere have been wondering who will get to call the nicest boy in the After series their forever love? Read it and find out!
"I'm so excited for everyone to get to know Landon Gibson. Whether you're just hearing about him or already know him from the After series, I know that readers are going to love his story. He's kind and fiercely loyal, and when he falls in love, he loves hard." (Anna Todd, New York Times and #1 international bestselling author of the After series)