Off the Rails by Jill Sorenson brings together two unlikely people and puts them in dangerous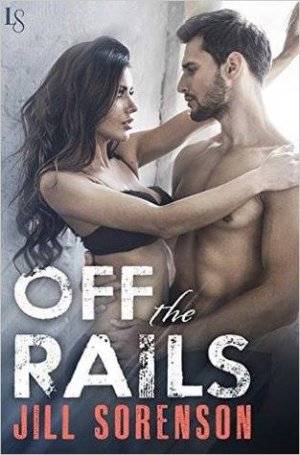 situations. Their story actually started in Caught in the Act, but really builds in this book.
Our hero, Ian, was a border patrol agent and our heroine, Maria, a Mexican woman in the country illegally. Right from the beginning, the cards were dealt against them, but their attraction to each other was just too hard to ignore. Ian is no longer a border patrol agent, and now, is on assignment for Immigrations and Customs Enforcement, regarding a cartel member and his connection to Maria.
Maria delivered a letter to the daughter of a cartel member and now Ian wants answers. Maria doesn't have any. She sees the good in people and doesn't give him much to go on, but because she needs him to lead her to her brother, she offers up her assistance. Maria is a strong character that goes through the hurdles of entering the country and trying to find work, in order to bring money home to her family. Her story is filled with ups and downs, but highlights her journey.
Ian is a good guy in an interesting position.
"You think you can marry me and work in immigration enforcement? That's like a judge marrying a criminal he locked up."
I really enjoyed how Ian wouldn't give up on Maria. He respects her and does everything he can to keep her safe. Both characters are vastly different from each other, but Ian proves that a relationship between them can work, despite their issues.
The story also focuses on other characters and their point of views. The romance focuses on Maria and Ian but the story is deeper than that. It's filled with action, violence, and hope. The characters are realistic and interesting. I found myself intrigued by Maria's journey and horrified by what she had to go through to get into the country. Off the Rails, is an enjoyable story and anyone who likes reading about two people with the odds against them, should give this a read.

Book Info:

Publication: December 13th 2016 | Loveswept |
A dedicated American agent risks everything for a forbidden beauty in this sensual, turbo-charged novel from the RITA-nominated author of Against the Wall ("A sexy, unique love story that I devoured in one day."—Monica Murphy).
Four years ago, when Ian Foster was working as a border patrol agent, he rescued an eighteen-year-old Mexican girl who'd been left for dead. He never forgot the gorgeous, resilient Maria Santos. Now Ian is an undercover ICE agent on the trail of a ruthless criminal with an intriguing connection: Maria. She holds the only clue to the man's whereabouts. And Ian is tasked with crossing the border to find her.
Maria has always carried a torch for Ian, the handsome American who saved her life. When he shows up in her hometown, the attraction between them ignites. His intense gaze sets her blood on fire. But Maria is in serious danger. She owes a favor to a drug lord, and soon she's caught in the crosshairs of a treacherous takedown operation. Once more, Ian's her sole hope of survival—and his sizzling touch rekindles a passion that goes beyond borders.