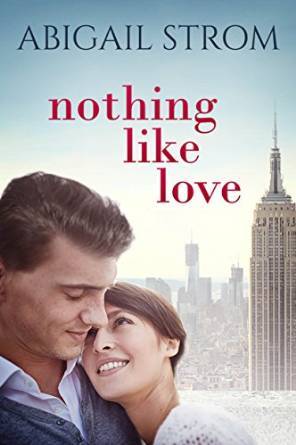 Nothing Like Love by Abigail Strom is a funny, quirky story about finding love, and falling in love. It is about fighting attraction and running for the hills when the love bug bites. It is about taking a chance and holding on with both hands. This wonderful story is the all about Simone and Zack.
Simone Oliver is talented. She can build and design and create beautiful, breathtaking scenery for the Manhattan Theater Company, capturing the feeling of the play in a way that will take your breath away. She also has a thing for Shakespeare and has memorized most of his plays and recite them line by line. Never wanting to be center stage, she also avoids love like it is contagious. When she meets tall, dark, handsome, famous Zack Hammond, she knows that she is way out of her element.
Zack Hammond has been doing theater and moves for a long time. When he agrees to direct A Midsummer's Night Dream for the little Manhattan Theater group, he has no idea that the set designer is going to set his pulse racing. He will taunt her, he will push her past her comfort zone, and he will do anything to make her see that they are perfect for each other.
But as these two spend more time together and give into the growing feelings that can no longer be denied, will they get their fairy tale ending, or will their love be like that of Romeo and Juliet.
I loved the banter and interaction between Zack and Simone, when they decide to have a Shakespeare-guess-what-play contest, only hurling Shakespearian insults I thought I was going to loose it. Talk about funny! I loved how Zack helped "distract" Simone during her fear of flying…..talk about HOT HOT HOT!. Zack had such a sweet side, wanting to help Simone's neighbors, because he knew that it would in turn help Simone. Simone was afraid that love was meant for other people, and she almost threw her chance with Zack away, but in the end, these two fated lovers get an amazing HEA. I really enjoyed this amazing story. I would recommend this book to anyone that enjoys a theatrical HEA.
Book Info:

 Expected publication: February 16th 2016 | Montlake Romance |
Simone Oliver prides herself on being a realist and a cynic. A brilliant set designer for a Manhattan theater company, she thrives in the background and is perfectly comfortable in jeans, Chuck Taylors, and a paint-smeared T-shirt. That is, until Zach Hammond, the award-winning (and sexy-as-hell) British director, turns the spotlight on her. He's clearly captivated by her and won't take no for an answer—but Simone is determined to maintain her position that love's not worth the risk.
A hopeless romantic who can quote Shakespeare on a whim, Zach has spent his life center stage, surrounded by world-famous actors and royalty. But nothing he's seen can compare to what Simone can create. Before long, he finds himself as mesmerized by her brash beauty as he is by her work, and he's determined to seduce her stubborn heart.
But while the two may have been successful at relegating romance to the wings in New York, when their production moves to a centuries-old Irish castle in County Clare, there may be just enough magic to give true love the curtain call it deserves.