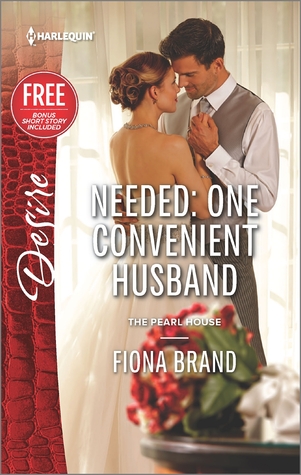 Needed: One Convenient Husband by Fiona Brand: Convenience is in the eye of the beholder, then again what may start as convenience may just change over time.
Eva Atraeus wasn't thrilled that she couldn't get her inheritance until she married for love and not for money. It's not that she didn't believe in love, but there were things in her life that she just couldn't share and one of them was the reason that she just couldn't get married, not to any one. So she went looking for someone who would agree to a pre-nup and wouldn't pressure her for sex. The problem was her guardian kept turning them away, so maybe her guardian would do?
Kyle Messena knew she was different, he had known that every day since he left her all those years ago. Why her uncle had made him her guardian that was what he couldn't figure out. Nor could he understand the feelings he had any time he got around her or thought about her. He had been married and he wasn't going down that path again. He couldn't.
Then circumstances changed and Kyle and Eva made a pact. The problem now was that the rules were changing and neither of them had any idea as to how this game was going to be played.
This is actually a really good novel for Ms. Brand. It is a part of a series but can be read as a stand a lone. The biggest issue I had with it was that I wished some of the details would have been flushed out more. However the characters were amazing and relatable as their flaws weren't easily fixable and all the money in the world couldn't change certain things. The relationship of dialogue to text was great and the story had a really complex line but was quick moving. This is a great novel complete with a HEA.

Book Info:

Published February 9th 2016 | Harlequin Desire | The Pearl House
To inherit her fortune, she has three weeks to find a convenient groom…
Eva Atraeus must marry. But every suitor is bought off by the will's formidable trustee: Kyle Messena. He has made himself the last available groom! Kyle broke her heart years ago. Now the dark, dangerous banker is the last man she'd marry—even in name only…
If Kyle can't have Eva, no man will. No, he won't fall for the fiery, passionate Eva, but he'll keep her safe from men who would use her. Then, after the will is satisfied, he'll walk away. But Kyle makes one mistake: he sweeps his wife to their marriage bed…